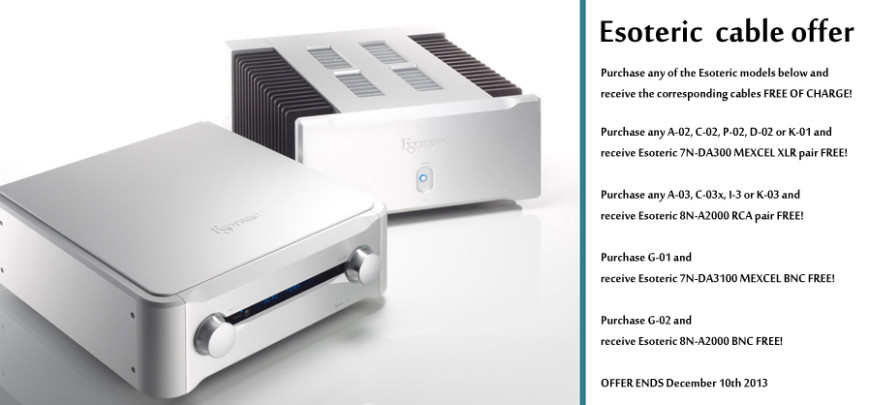 For those of you who missed out at the start of the year, never fear as the Esoteric cable promotion is back for a limited time! Until the 10th of December 2013, order any participating product from the Esoteric range and you will receive an Esoteric cable set FREE OF CHARGE. We are not talking about just any throwaway set of cables, we are talking about ultra high purity 7N & 8N copper built in Japan by none other than Acrolink for Esoteric. The cables on offer range in price from $1,300 to $3,700 RRP!
Read on to find out all the details, this is one offer you don't want to miss out on.
Purchase A-02, C-02, P-02, D-02 or K-01 and receive a pair of Esoteric 7N-DA3300 MEXCEL XLR cables valued at $3,700 absolutely FREE
Purchase A-03, C-03x, I-03 or K-03 and receive a pair of Esoteric 8N-A2000 RCA cables valued at $1,900 absolutely FREE
Purchase G-01 and receive an Esoteric 7N-DA3100 MEXCEL BNC clock cable valued at $1,550 absolutely FREE
Purchase G-02 and receive an Esoteric 8N-A2000 BNC clock cable valued at $1,300 absolutely FREE
Remember this offer is not limited to one product per person. The more you order, the more FREE cables you get. So if you order a P-02/D-02 combo you get two sets of cables included. Order C-02/A-02 again two sets of cables are thrown in.
This offer is strictly limited and is first come first served until stocks of the cables are exhausted. If all cables are gone before the end date then that's it folks, so if your thinking about any of these products I would act now to avoid missing out.
If you have any questions please contact us via phone or email.