Product Description
The HFAS1-XS20U builds on the basic design of the popular HFAS1-S10U by adding an X-Cluster SSD unit designed specifically to deliver high 2 TB storage capacity and the high level of quality required by audio applications.
This high-end fidata network audio server also utilizes a steel chassis that's 3.2 mm thick for significantly higher rigidity so that it can deliver an even higher level of performance.
*Apart from the X-Cluster SSD, the HFAS1-XS20U shares its circuit design and software with the HFAS1-S10U.
---
X-Cluster SSD unit designed specifically for audio applications
Instead of simply utilizing a single, large SSD, fidata incorporates a new technology known as X-Cluster Storage Technology to deliver high storage
capacity along with the high quality required of audio components.
---
Dedicated X-Cluster SSD unit for audio
The X-Cluster SSD was developed specifically for the HFAS1-XS20U.
This cluster stripes data uniformly across two SSDs. The resulting ability to access data uniformly across all SSDs in the cluster smooths the load on the power supply load by limitingdeviations in power consumption. In addition, the HFAS1-XS20U features a pair of dedicated linear power conditioners that provide clean power.
---
X-Cluster Storage Technology
Designers of audio devices must exercise maximum care with regard to power supplies. Featured in the HFAS1-XS20U, X-Cluster Storage Technology is a new, proprietary fidata technology developed from an audio storage perspective to deliver high SSD storage capacity, a more stable power supply, and reduced noise.
---
A cluster of four SSDs
The HFAS1-XS20U incorporates two X-Cluster SSD units, one on the left and one on the right, for a total of four SSDs. The result is an enormous 2 TB cluster of storage configured in a way that reduces power supply fluctuations caused by uneven data access.
Linear power conditioners
In addition to the HFAS1's power supply circuit, which consists of a dedicated switching power supply for the storage subsystem and a dedicated power generation circuit that has been tuned with numerous capacitors, the HFAS1-XS20U adds a pair of linear power conditioners for its X-Cluster SSD units. This design contributes greatly to more stable power supply performance.
---
Significantly increased rigidity
thanks to a steel chassis that's 3.2 mm thick
The HFAS1-XS20U uses a steel plate that is 3.2 mm thick to increase its chassis rigidity. We revisited both the material and the surface finish of the base steel plate, which is 1.4 times thicker than the previous design. The new model's hot-rolled steel features a black chromate finish, preserving the fidata's well-received appearance while maximizing its chassis rigidity.
---
COMMON FEATURES with HFAS1-S10U
The fidata HFAS1 is a network audio server that was engineered so that you can enjoy high-end audio.
You can see evidence of our meticulous, iterative approach from the materials chosen for the chassis to the design of the unit's circuit board and its individual components. This product is the cumulative result of numerous prototypes and countless trial listening sessions.
The result is an exceptional level of audio quality that befits the unit's high-end name, packaged in an impressive chassis from which every hint of waste has been pared.
---
HFAS1 delivers a total solution for experiencing music digitally.
The HFAS1 is a one-stop digital audio solution that delivers an audio-quality media server, USB DAC compatibility (network transport), CD ripping* and CD transport functionality* in addition to capabilities ranging from music import and playback to data protection.
By giving you the freedom to combine components as desired, HFAS1 makes it possible to create an audio system that reflects your own individuality.
*External CD-drive required for ripping, please refer to image below and detailed notes at the bottom of this page.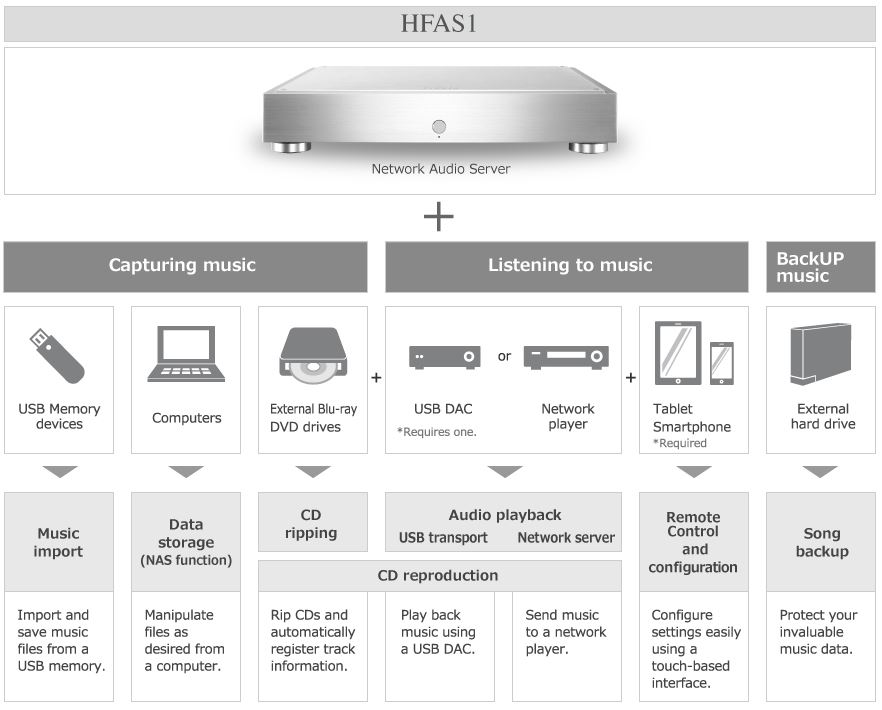 An uncompromising dedication to quality on par
with the best in network audio
Take the chassis, for example.
The austere exterior, from which all traces of ornamentation—even a display—have been excised, represents an inevitable form that has reached the limits that come from a single-minded drive to recreate ideal sound.
In each capacitor, in the circuit board layout: everywhere you look, you'll find thoughtful dedication to details.
This is a network audio server that's not afraid to call itself high-end.
---
High-rigidity, all-metal chassis
A 4.0 mm thick aluminum top cover is fitted to thick, E-shaped aluminum side panels.
A 2.3 mm thick copper plate weighing 2.2 kg has been used as the bottom of the chassis to give the unit weight and ensure it remains stable despite vibration.
Built around a T-shaped layout with a partition that divides it into separate areas for the power supply/circuit board and storage devices, the chassis features internals that have been designed to reduce the amount of noise radiated from the latter. This design limits any adverse effects such noise may have on the power supply and circuit board.
---
Two independent circuit blocks
The circuits that power the main circuit board's system hardware and its storage devices are completely isolated to keep power supply noise from the latter from adversely affecting the former.
In this way, we have aggressively eliminated the effects on system circuitry of noise generated during drive access.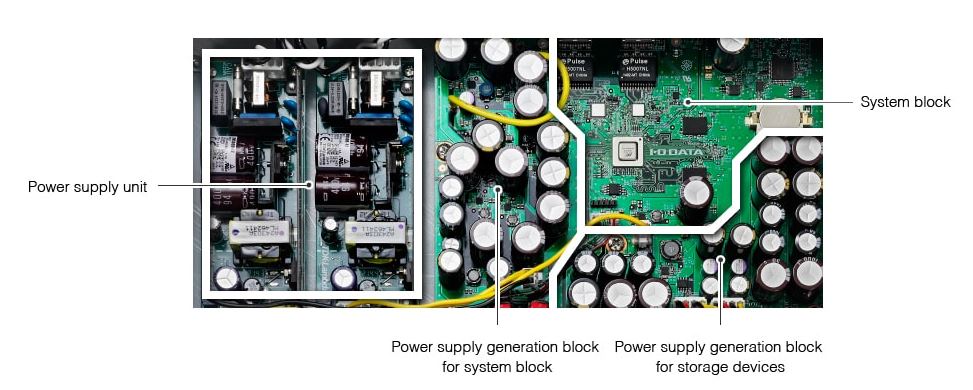 Single-point ground to prevent noise generation, leakage, and introduction
Counteracting noise is the single greatest issue in the design of audio devices.
The HFAS1 features an optimized pattern design and a single-point ground configuration that grounds circuitry via a single connection to the unit's copper base.
This arrangement allows it to generate an exceptionally stable supply of power from which common impedance has been eliminated.
---
High-capacity electrolytic capacitors
The HFAS1's circuit board incorporates an optimal arrangement of low-ESR electrolytic capacitors that includes some audio-grade components.
This design implements a high-quality, stable power supply.
---
25 MHz low-phase-noise crystal oscillator
The HFAS1 uses a vacuum-type crystal oscillator with low phase-noise characteristics.
In addition to limiting clock jitter, this design implements high-precision network transmission using a clock generated by a high-precision crystal.
---
Link separation system
The HFAS1 provides two LAN ports, one for audio and one for networking.
The "for Audio" port is designed to be connected to a network audio player, while its "for Network" counterpart is designed to be connected to the user's home network, enabling the high-quality signal generated by the unit to be transmitted directly to the player.

LAN connectors with exceptional contact performance
The two LAN connectors have been oriented with the signal terminals at the top in order to ensure stable contact with the LAN cables' terminals.
In addition, the DIP-type LAN connectors used by the HFAS1 each feature a mechanically robust, 14-point connection to the circuit board.
This design prevents the connector and terminals from becoming misaligned in order to preclude any adverse effects from vibration.
---
LED-off function to counteract noise
The two LAN ports incorporate LED lamps that flash or illuminate continuously to indicate information such as the connection status and communications speed between the HFAS1 and other audio devices and the router. However, users can disable these lamps on the setup screen in order to minimize any noise resulting from their operation.
---
Dual high-quality, high-reliability 50 W power supplies
Because the power supply plays a key role in enabling high-quality audio playback, the HFAS1 incorporates two dedicated TDK-Lambda 50 W power supplies (for a total of 100 W), one for the main unit and one for the drive unit. Use of independent power supplies for the system and storage blocks keeps noise from one block from adversely affecting the other.

DLNA certified
The Digital Living Network Alliance (DLNA) has formulated a series of guidelines to simplify audio and video playback using audiovisual components as well as computers, smartphones, tablets, and other network-connected devices from various manufacturers.
Music files stored on the HFAS1 can be played back on multiple DLNA-compliant devices connected to users' wireless and wired networks.
For example, a user could enjoy music stored on an HFAS1 in the living room on a network audio player in another room.
---
Customized Twonky Server 7 for enhanced ease of use
The HFAS1 uses Twonky Server 7, the de facto standard for music management, transmission, and distribution.
The software is highly compatible with various manufacturers' network players and known for its ease of use.
Twonky Server 7's extensive functionality includes a navigation tree function that facilitates fine-grained sorting of large numbers of music files as well as the ability to display high-resolution album art. The HFAS1's version of the server has been customized to properly display song and artist names and to display songs and album tracks in the proper order. The software delivers a level of ease of use and scalability that were unthinkable during the age of disc media such as CDs.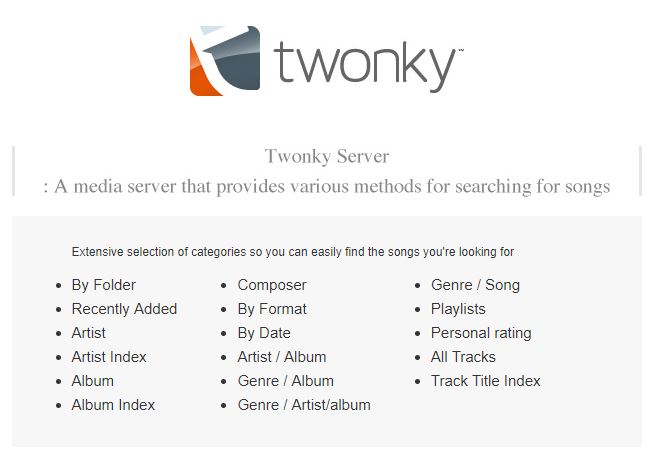 Support for DSD files as well as WAV and FLAC
Twonky Server 7 adds support for DSD (DFF and DSF) files at bitrates of up to 11.2 MHz to existing support for PCM (WAV) and FLAC files at bitrates of up to 384 kHz (32-bit resolution).
---
Display of high-resolution album art in the standard configuration
The HFAS1's implementation of Twonky Server is designed for use in audio applications and comes configured to distribute high-resolution album art in its standard configuration. Users can enjoy beautiful album art on supported devices whose compatibility has been confirmed without needing to make any difficult settings.
---
Simple and smart: Setup that's easy for everyone
To set up the HFAS1, you need only connect it to a network audio player and router with LAN cables.
Additional settings can be configured on a tablet, or smartphone using fidata Music App, which allows users to access setup screens simply by selecting devices in response to dialog-style prompts.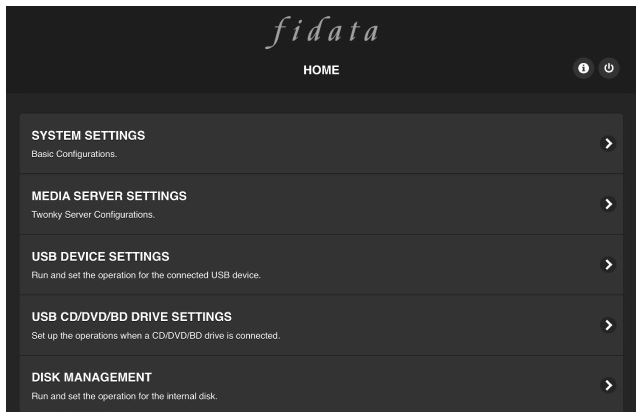 Power-based switchless on/off
Since the HFAS1 releases system cache data to the drives as necessary, it can be turned off simply by cutting off its AC power supply without corrupting system or audio data, as long as data isn't being written when it is turned off.
The unit can be turned off by cutting off its power supply in the same manner as other audio devices.
---
Combine the HFAS1 with a USB DAC unit in order to use it as a network player with a built-in server!
Since the HFAS1 releases system cache data to the drives as necessary, it can be turned off simply by cutting off its AC power supply without corrupting system or audio data, as long as data isn't being written when it is turned off.
The unit can be turned off by cutting off its power supply in the same manner as other audio devices.
---
The kind of high-precision CD ripping you expect from a high-end system and CD transport function as only network audio can provide
fidata CD ripping
The fidata's CD ripping function allows you to rip music CDs to the HFAS1 without a computer. Simply connect an external USB DVD/Blu-ray drive to the fidata. The fidata's meticulously designed CD ripping function combines the convenience of being able to automatically acquire track information and album art with the press of a single button with bit-perfect ripping performance.
•Start ripping quickly and easily by simply pressing the button on the fidata (automatic configuration of the ripping process is also supported).
•Save data as either WAV or FLAC files in the PCM format (44.1 kHz/16 bits).
•When using the FLAC format, choose from three compression levels, including an uncompressed option.
•Track information and album art are automatically acquired from the Gracenote MusicID® service.
•The fidata works with the AccurateRip™ track data comparison database to ensure every copy is bit-perfect.
•If verification fails, the fidata will try again automatically after changing the ripping settings.
•Once ripping completes, the disc is automatically ejected from the DVD/Blu-ray drive.
*An Internet connection is required in order to use Gracenote MusicID® and AccurateRip™.
*The AccurateRip™ service utilized by this product accesses CD ripping data provided by the UK company Illustrate Limited. This service is subject to termination in the future without notice. In the event the service is terminated, all aspects of the CD ripping function other than access to AccurateRip™ will continue to function as before

fidata CD transport
The fidata CD transport function lets you share music CDs over the network so that they can be played directly by other connected devices. By combining track information and album art acquired from the Gracenote MusicID® service with a music CD that has been loaded into a USB-connected DVD/Blu-ray drive and sending the data over the network, the fidata lets you enjoy listening to the CD on a supported USB DAC or network audio player.
•The CD will show up as "#CD: Album title" under "Folders" in the media tree.
Music CDs can be played via either a USB DAC connection*1 or a network player connection.
*A USB hub is required in order to play a music CD via a USB DAC connection.
•You can choose tracks on the music CD by name rather than number.
•You can control music CD playback using the control app or other means, just as with network audio.
*1 An Internet connection is required in order to use Gracenote MusicID® and AccurateRip™.
*An Internet connection is required in order to display track titles (via the Gracenote MusicID® service).