Product Description
ESOTERIC GRANDIOSO P1 CD/SACD TRANSPORT & N-01XD DAC COMBO
*PLEASE NOTE GRANDIOSO P1 TRANSPORT IS EX-DEMO, N-01XD IS BRAND NEW IN BOX*
We have a one time special offer of the previous flagship CD/SACD transport, the ESOTERIC GRANDIOSO P1 coupled with the new award winning N-01XD network player/DAC which features the in-house designed and built Master Discrete DAC along with a slew of other features including TIDAL streaming for the ultimate digital front end system.
The GRANDIOSO P1 CD/SACD transport features the world renowned VRDS Neo transport mechanism and a separate power supply and will connect to the N-01XD via the custom ESOTERIC ES-LINK4 interface carried on dual HDMI cables (one for each channel). The HDMI cables are supplied with this combo and come from the master cable builders at Van Den Hul.
The P1 is in pristine condition, will have a new laser fitted for years of trouble free service and come with a 12 month warranty whilst the N-01XD is brand new in box with a full 3 year warranty.
BOTH units are in stock in Melbourne and ready to ship to the lucky new owner, no need to wait for stock.
This is strictly a ONE-TIME ONLY deal so please contact us if you feel this offer is for you.


   * Grandioso (music): Grand or noble.
To create a moving, once-in-a-lifetime connection between music and a listener, the vitality of the music needs to be conveyed in its purest form without stress. That is the ultimate mission of top-quality audio. ESOTERIC's P1 and D1 digital source systems combine remarkable new technologies such as ES-LINK4 and 36-bit D/A processing. It's easy to see why these flagship models are called Grandioso.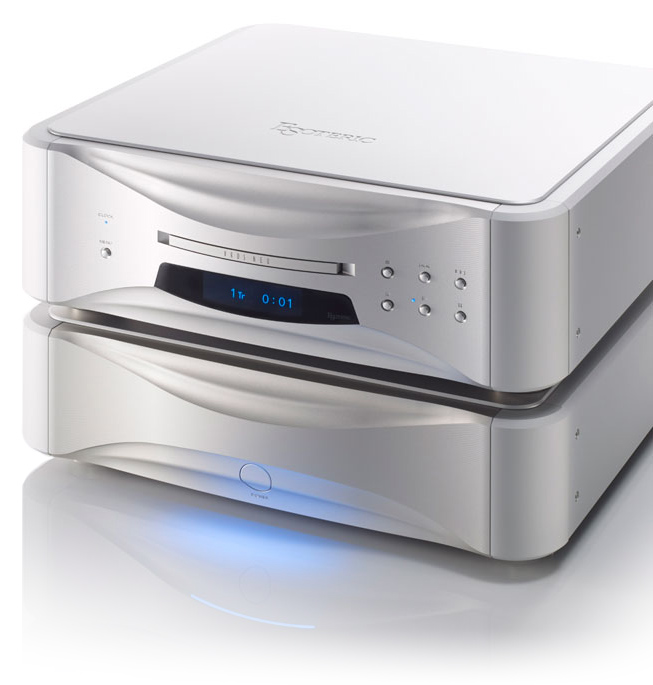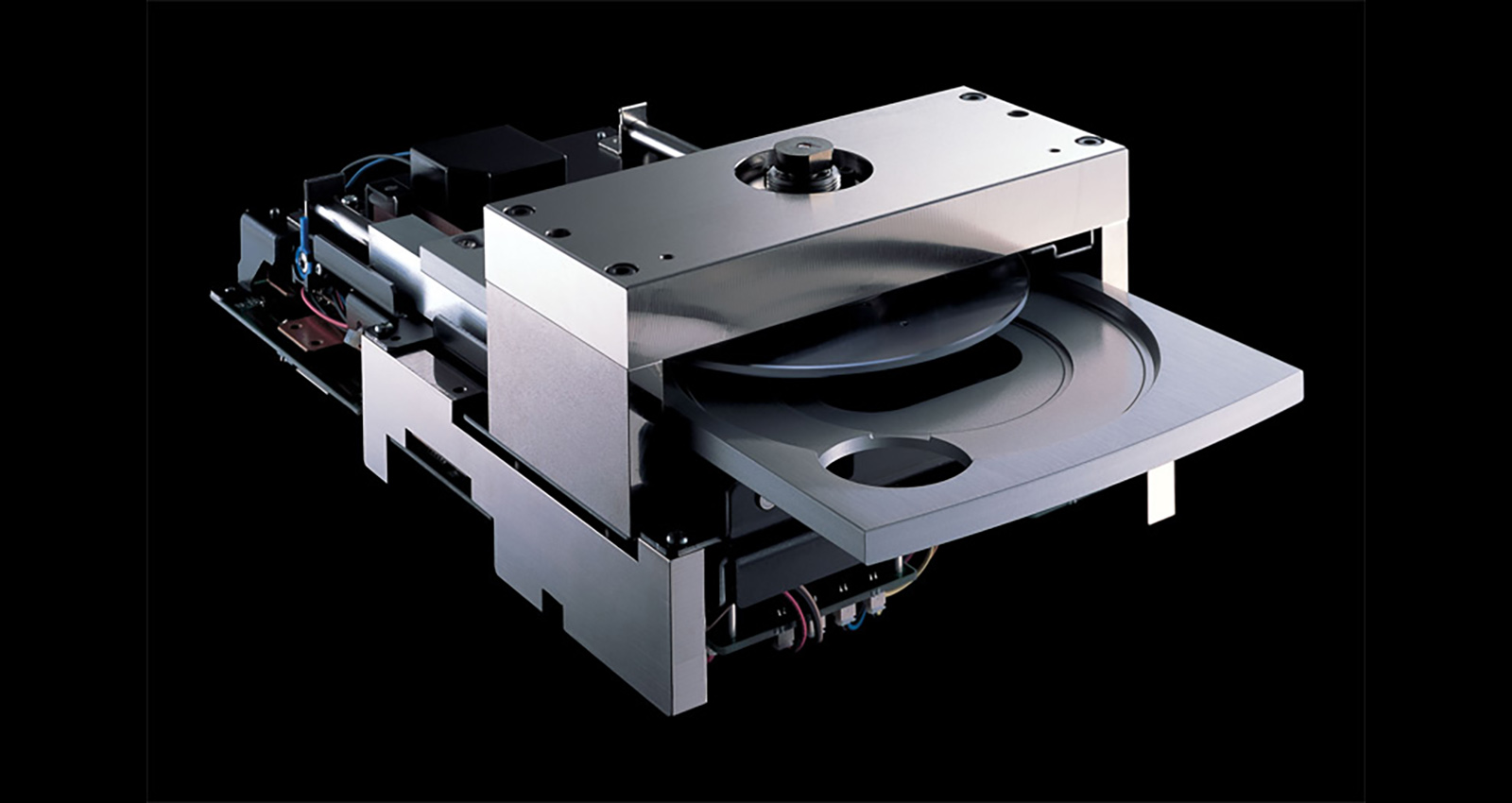 VRDS-NEO "VMK-3.5-20S" TRANSPORT MECHANISM
ESOTERIC is justifiably proud of this VRDS-NEO transport mechanism. Remarkable improvements in readout accuracy have been achieved by utilizing a high-precision turntable and correcting the disc surface shake occurring during disc rotation. The P1 features the VMK-3.5-20S VRDS-NEO with a refined drive circuit design. A pair of selected ball bearings is used in the spindle shaft bearing assembly, and there is a micron-level accuracy duralumin turntable with a 20 mm-thick steel turntable bridge for a total mass of 5.2 kg. In addition, the highly trusted mechanism of the P1 has been further refined with a high-magnetic-flux-density magnet-driven coreless three-phase brushless spindle motor, thread feed control (which evolved from the concept of the premier P-0 series), and a sliding-shaft-structure pickup that ensures that the laser beam is always at a right angle to the disc.
---
VS-DD* spindle servo driver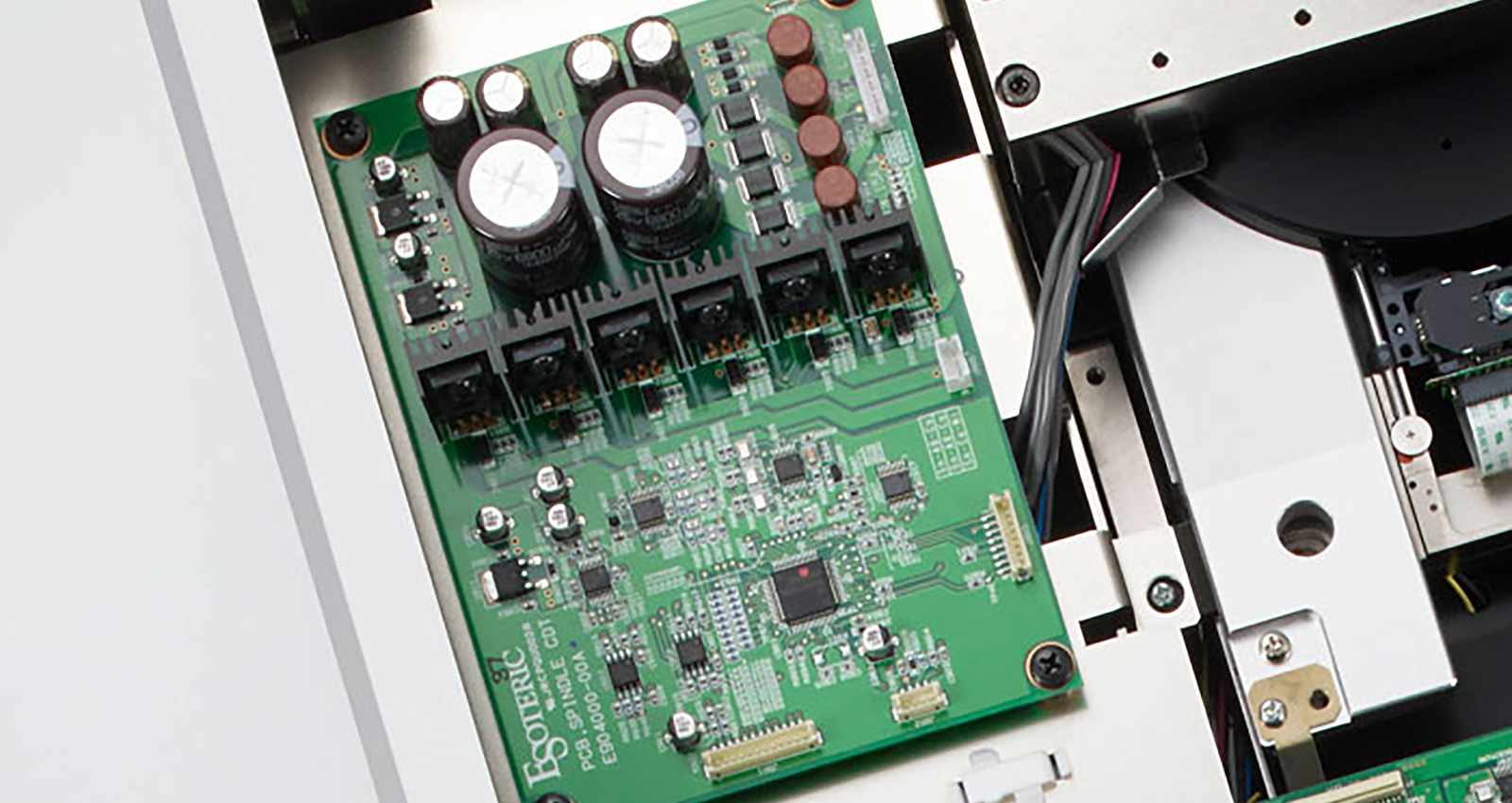 The P1 uses the VS-DD dedicated spindle servo driver to drive the spindle motor that functions as the core unit of the VRDS-NEO mechanism. Using a three-channel discrete amplifier circuit to optimize the current waveform supplied to the motors, the VS-DD suppresses vibrations, enabling smooth spindle drive operation and highly precise servo control. The dedicated toroidal power supply unit is mounted in a separate power supply unit housing, enhancing noise isolation effects.
*VS-DD=VRDS Spindle Discrete Driver
---
Two-chassis structure for main unit and power supply unit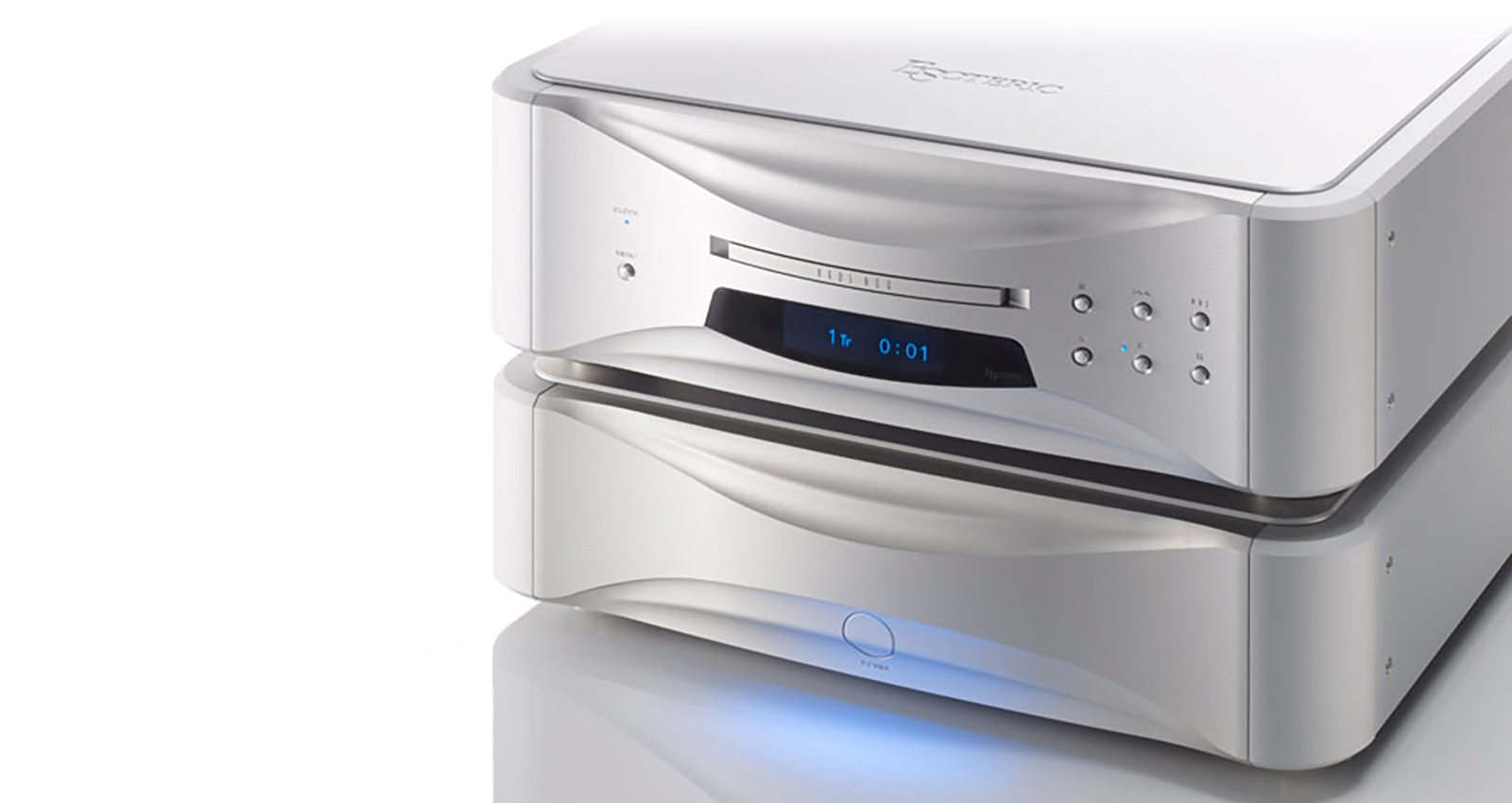 Following the concept employed in our trademark P-0 series, a two-chassis structure is used in the traditional ESOTERIC flagship model. The power supply unit has been expanded to full-size, making it possible to include even more extravagant power supply circuits. A total of four independent toroidal power transformers are installed to supply clean and stable DC power to each circuit (VS-DD circuit, drive mechanism drive circuit, digital output circuit, and clock circuit).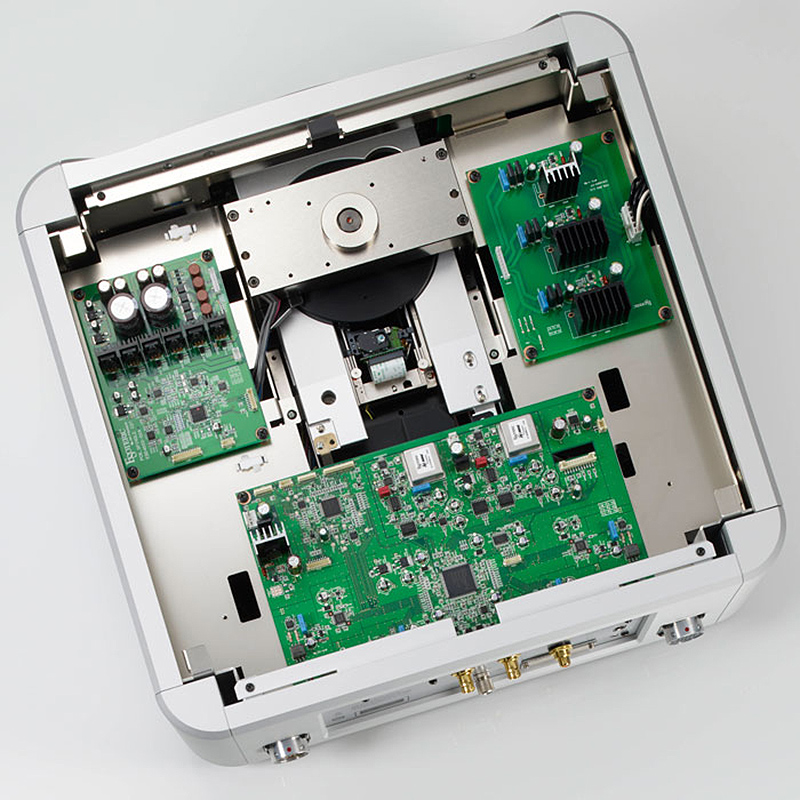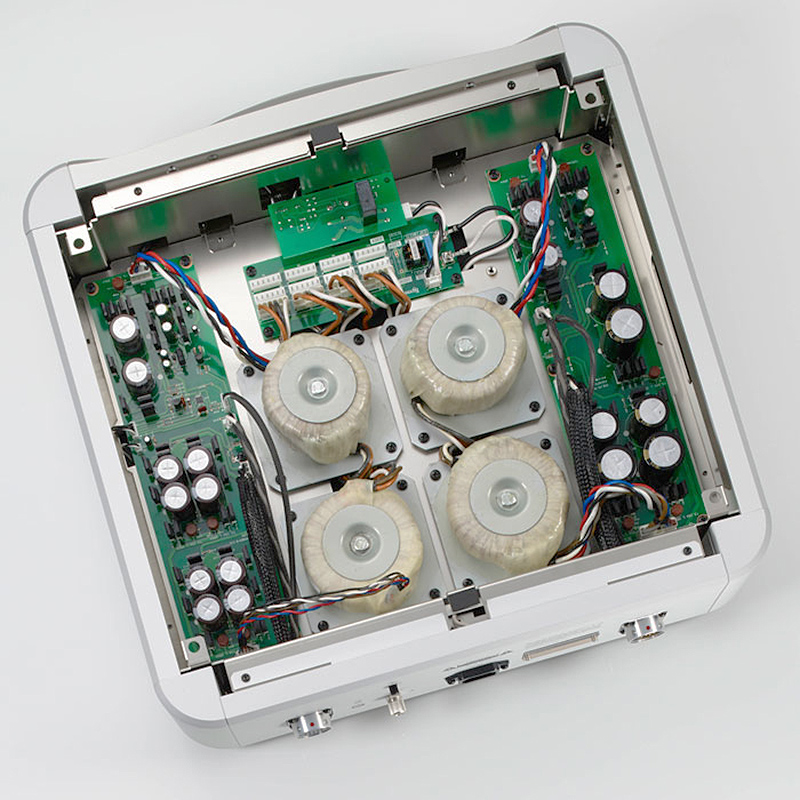 ---
Extensive material utilized both internally and externally
The inside of the main unit chassis has a double-deck structure and 3D optimized chassis construction connecting each circuit block with the shortest signal paths. Thick aluminum materials are used for the exterior, and the 5 mm-thick steel bottom chassis is supported at four points on original ESOTERIC pinpoint feet. Vibration is effectively controlled and thorough measures have been taken for rigidity.
---
New ES-LINK4 enables broadband transmission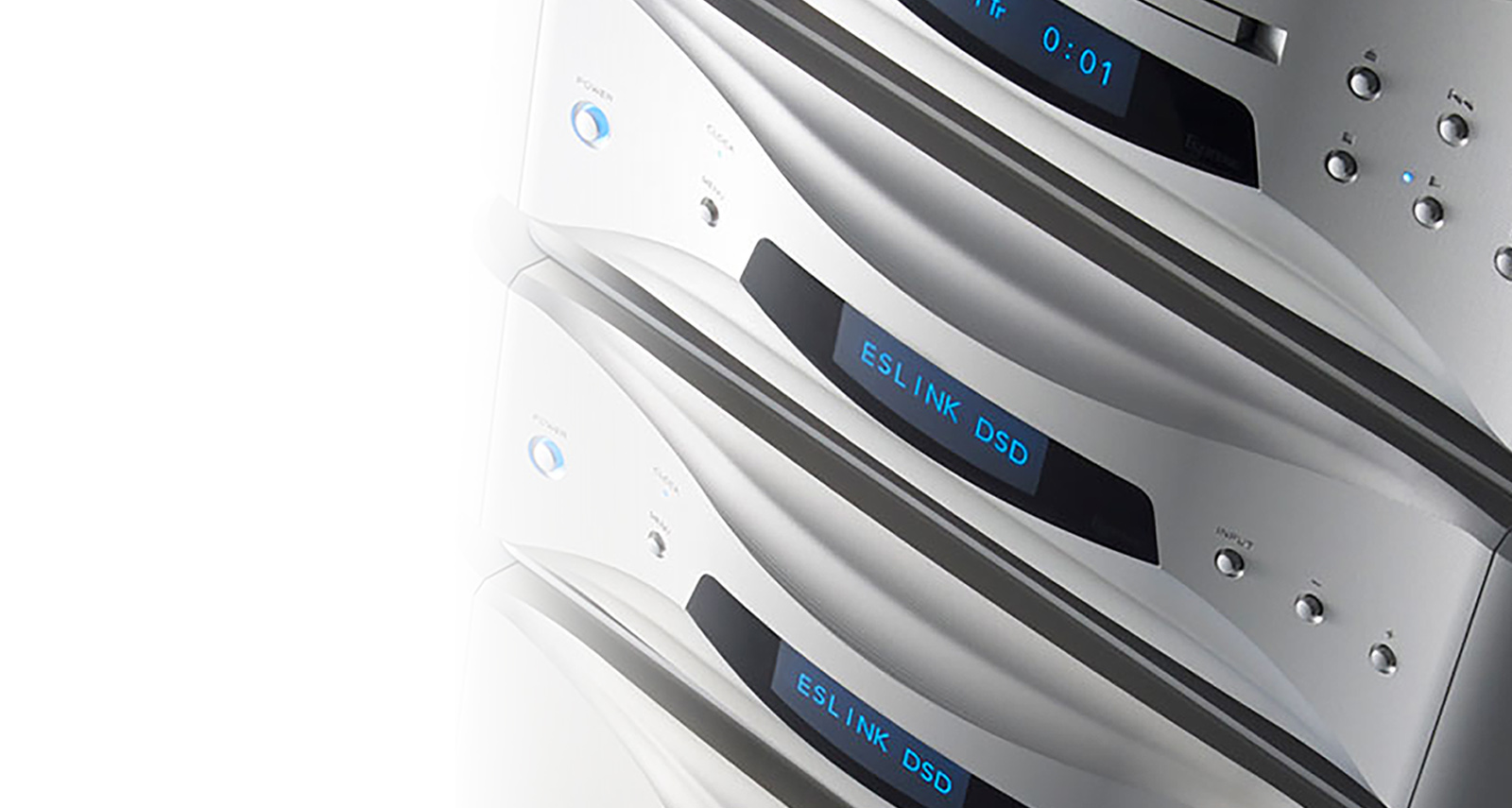 ESOTERIC has developed an original, state-of-the-art transmission format called ES-LINK4, which allows DSD and 352.8kHz/48bit PCM ultrawideband digital transmission using an HDMI cable. ES-LINK4 performs a large part of the digital signal processing on the sending side, greatly reducing the digital signal processing load on the D/A converter. In addition to ultra-wide bandwidth, we sought high sound quality through our "Pure D/A" concept, in which the D/A converter specializes in its original function of D/A conversion processing.
---
A new dimension of isolated clock technology
The clock circuit, which supplies highly accurate reference clock signals to a digital circuit, can be considered the core unit of a digital player. The clock circuit of the P1 and D1 is completely independent of other circuits, including its power source and ground, enabling pure clock signals to be supplied to the system. The voltage controlled crystal oscillator (VCXO) was developed especially for the P1 and D1 in a joint effort with Nihon Dempa Kogyo (NDK), a major manufacturer of crystal oscillators. For a high-precision custom clock device worthy of leading models, high sound quality playback is provided thanks to an extremely low level of phase noise and a crystal element that is even larger than before.
---
High-accuracy clock sync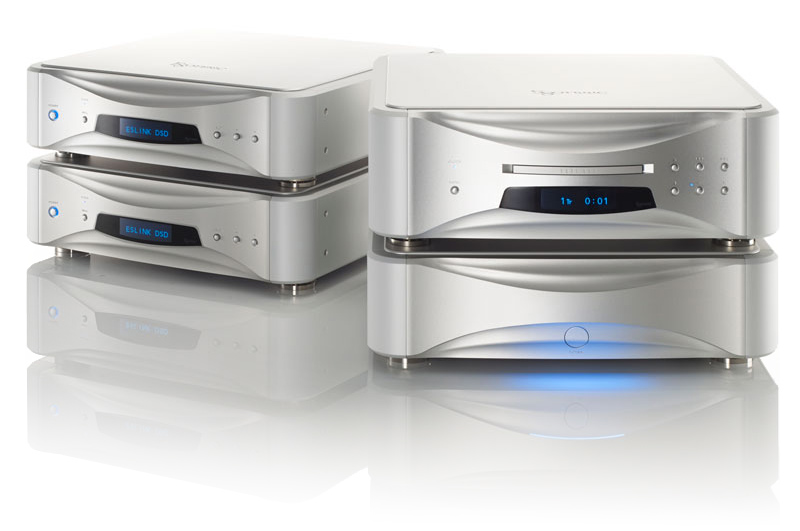 Jitter is reduced by connecting the P1 and D1 with a BNC cable for clock sync (synchronized playback). ESOTERIC's original technology for direct master clock linkage without Phase-Locked Loop (PLL)* is also supported. This technology enables pure clock processing, achieving a clear and accurate stereo image and ultra-clear sound quality.
An even more sophisticated level of system operation is possible by connecting the high-precision G-01 rubidium master clock (sold separately). This master clock supports clock sync for a variety of frequencies to suit your sound-quality preferences, including master clocks (22MHz/10MHz) and WORD clocks (44.1kHz/88.2kHz/176.4kHz).
*This master clock is a digital audio output reference clock (22.5792MHz) generated within the high-accuracy clock module of the D1. The system also uses this master clock as the clock of the digital output circuit supplied directly to the P1 without passing through the P1's internal PLL circuit. It also supports the LINK 10MHz direct master clock using the 10MHz clock supplied from the G-01 (sold separately).
---
Various digital output terminals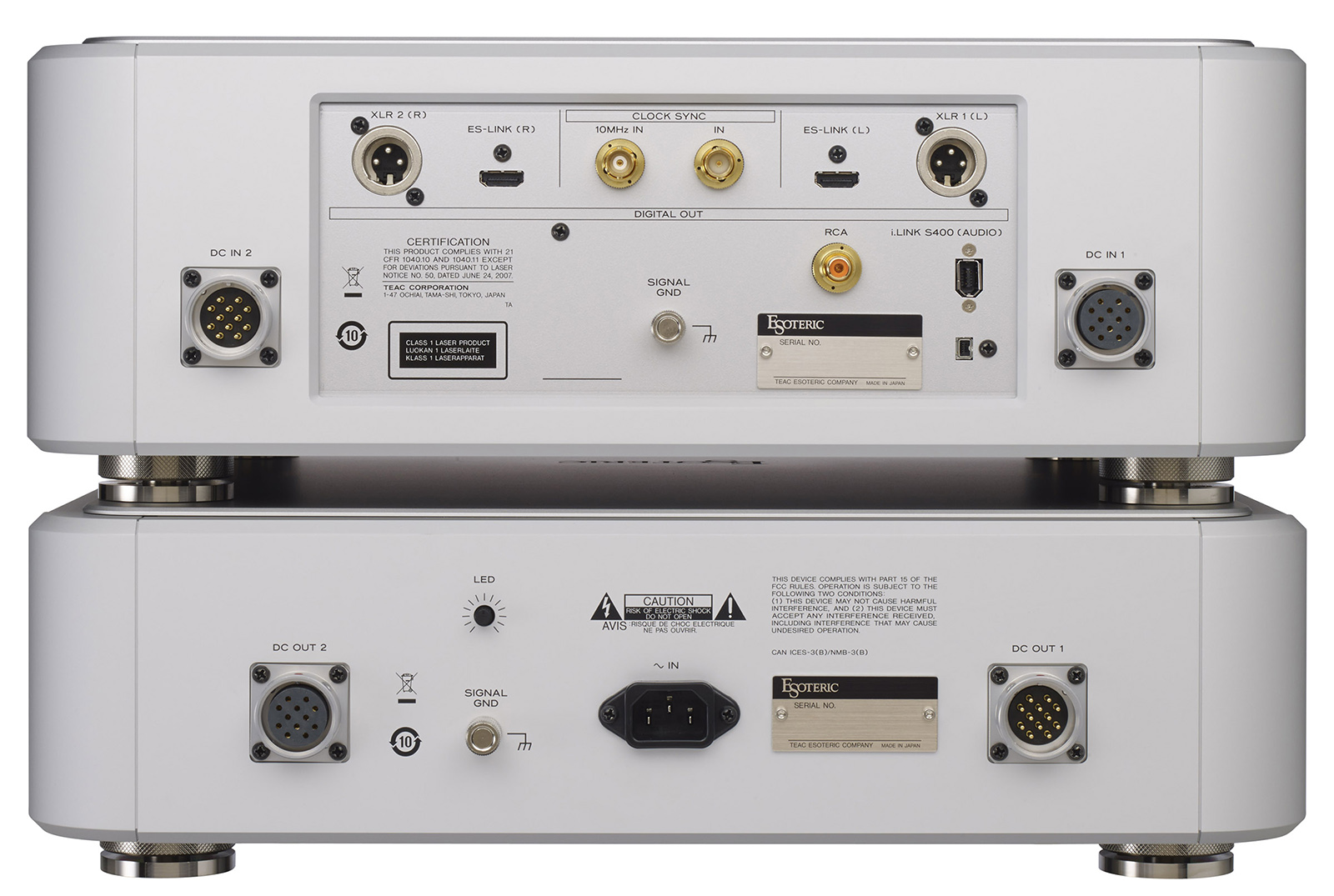 The P1 is equipped with five types and seven channels of digital output terminals (ES-LINK x 2, XLR x 2, coaxial x 1, i.LINK 4p/6p x 1 each), including a new dedicated ES-LINK4 terminal and dual XLR terminals supporting past.versions of ES-LINK.
---
Luxurious leather-finish remote control
Made of aluminum with just the right heft, the remote control has a leather finish that is supple and comfortable in your hand

N-01XD
The ultimate Network x DAC only ESOTERIC could achieve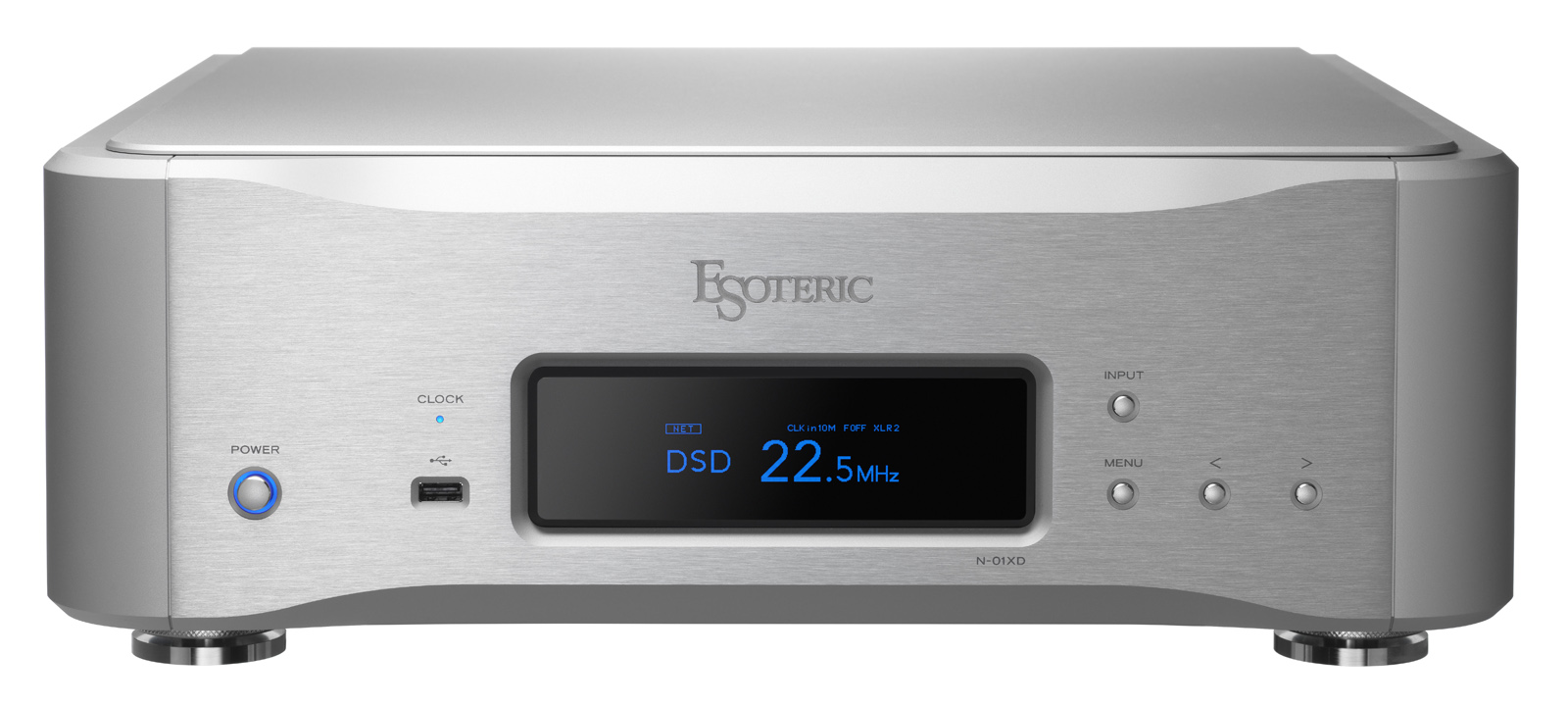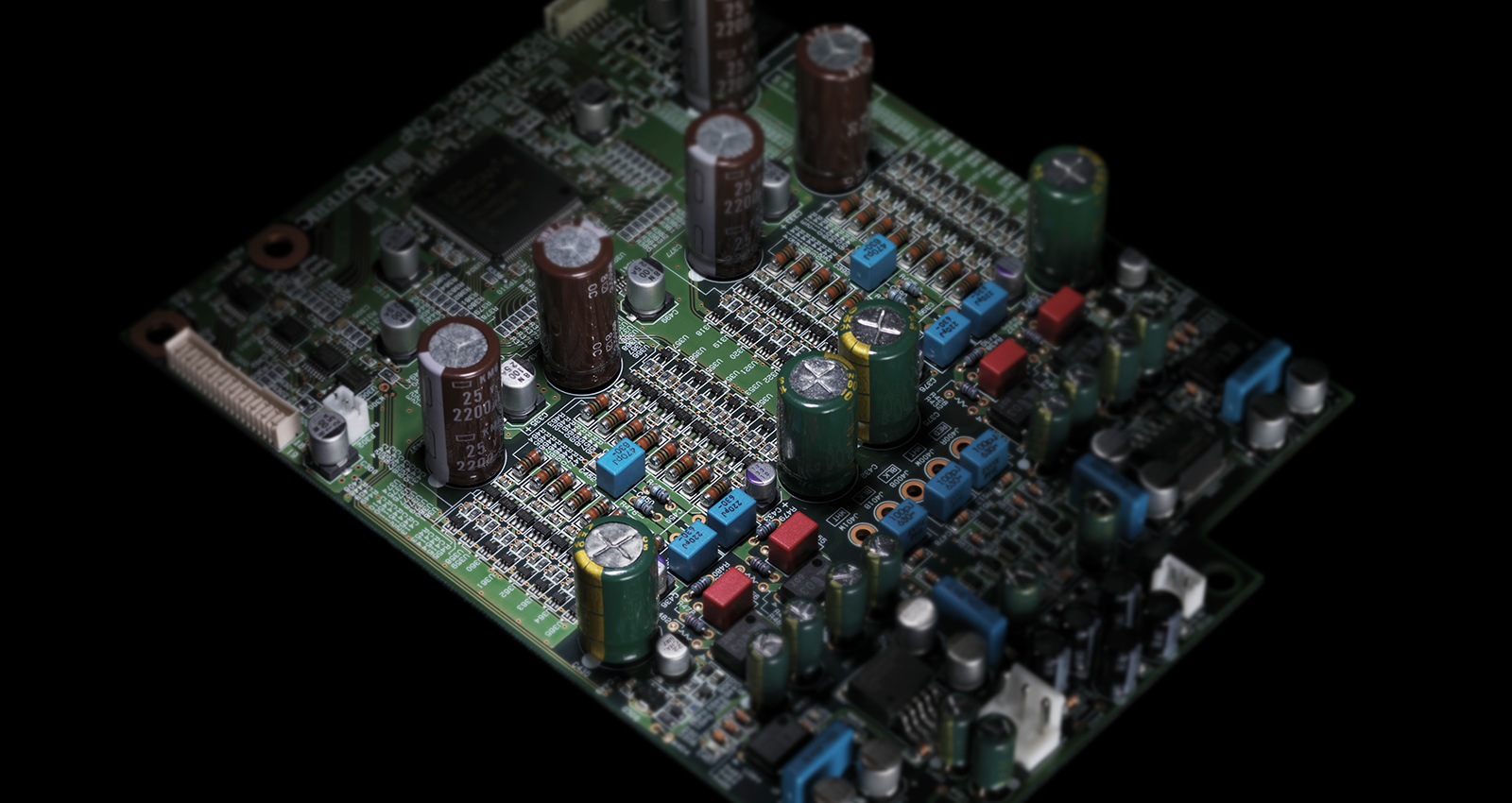 Bringing out all the dynamics and energy of music. Unattainable by integrated chips, our goal was to assemble carefully selected and tested discrete components into a complete circuit that could perfectly reproduce all the dynamics and energy of music. Our top engineering teams put their pride on the line to design and produce a quality of sound that can only be found in the Master Sound Discrete DAC discrete D/A converter.
---
Luxurious Materials and Powerful Current Output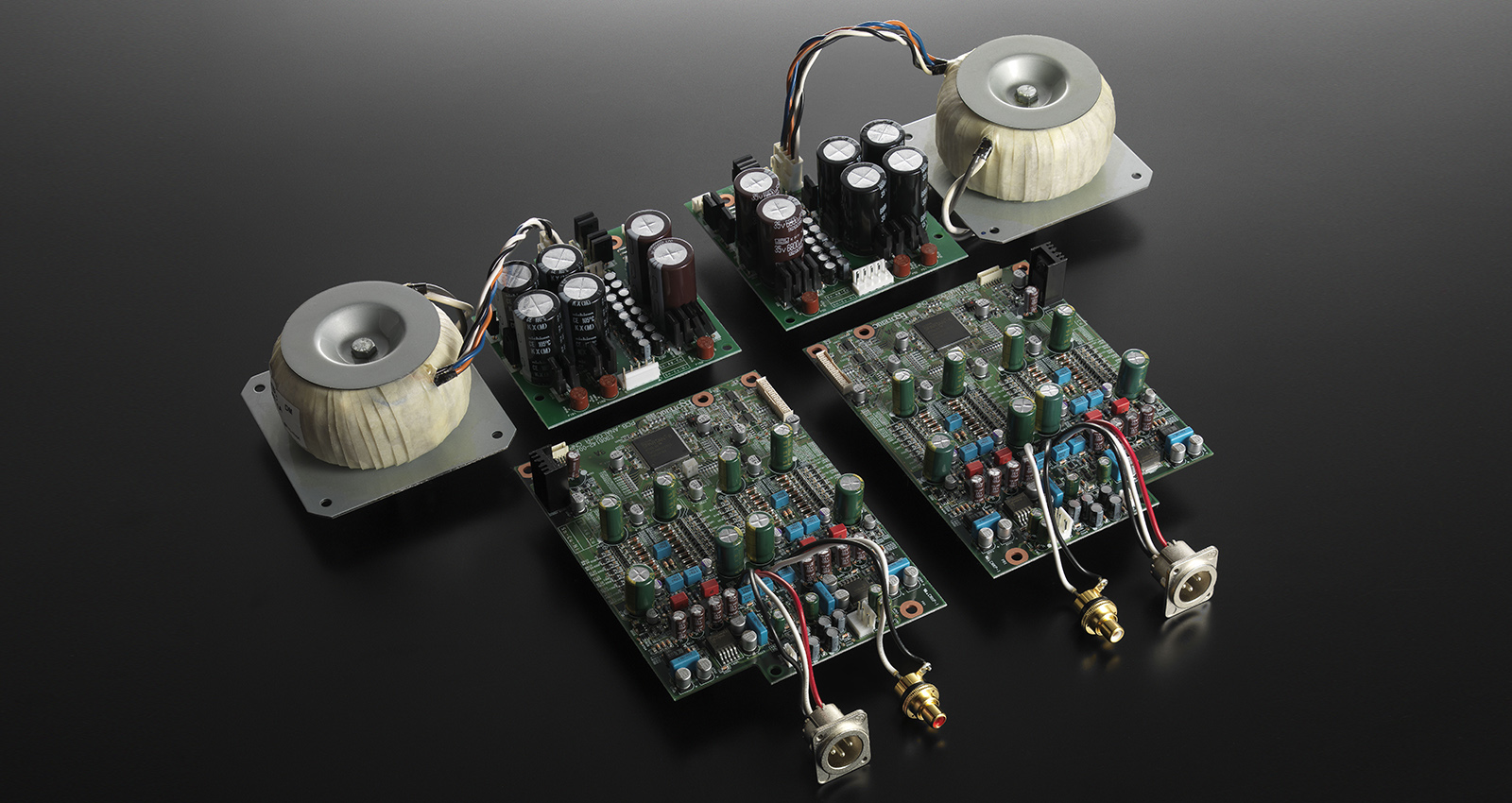 The N-01XD's Master Sound Discrete DAC is the most revolutionary two-channel stereo DAC circuit in Esoteric's history, and is based on the original circuit developed for the Grandioso D1X monaural D/A converter.
As an extension of the D1X's design philosophy, a luxurious volume of materials have been invested in the construction of N-01XD's Master Sound Discrete DAC. For example, it features 32 separate elements for each channel. Key components such as a clock driver, logic circuit, and capacitors and resistors, are kept independent for each of these 32 elements to ensure the purest output without no loss of musical energy.
---
Powerful Digital Processing Performance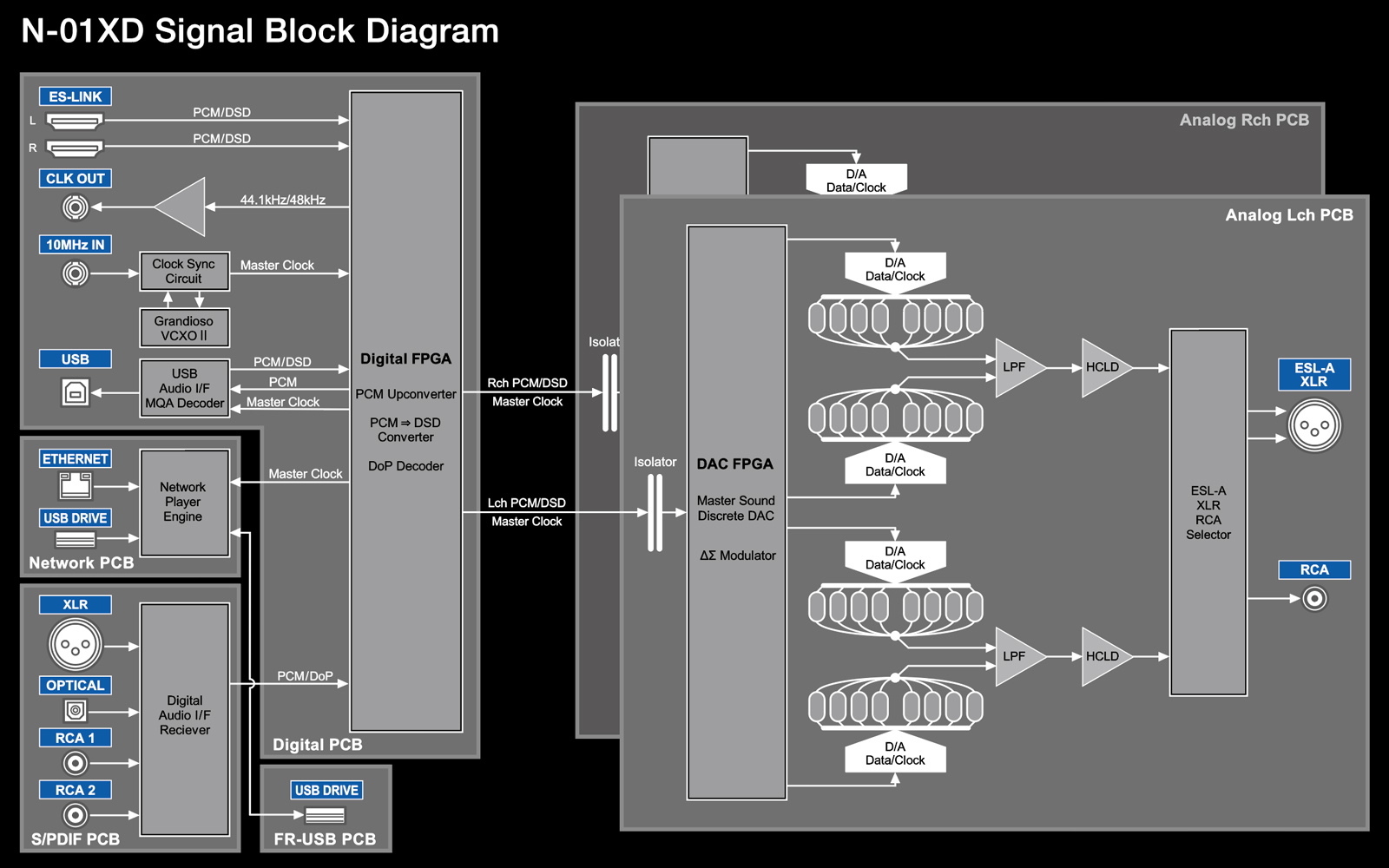 Employing an ESOTERIC's unique ΔΣ modulator that allows 64bit/512Fs input, and Digital-to-Analog processing with the FPGA* Digital-processing Algorism optimized for DSD and PCM formats respectively, the N-01XD delivers super high-quality sound regardless source, a Super Audio CD, a CD or Network.
* FPGA: Field-Programmable Gate Array
---
Unique ESOTERIC-HCLD Output Buffer Circuit with Enhanced Current Transmission
The ESOTERIC-HCLD *1 output buffer amplifier boasts an amazingly high-speed slew rate (response speed) of 2,000V/µs. Current transmission and speed—the most important factors for an analog output circuit—have been pushed to the limits to reproduce the reality of music with a dynamic range that is truly breathtaking.
*1: HCLD: High Current Line Driver
*2: EDLC = Electric Double-layer Capacitor
---
High-Quality ES-LINK Analog Current Transmission

In addition to its XLR and RCA amplifier line connections, the N-01XD also features the ES-LINK Analog method of current transmission. Taking full advantage of the HCLD buffer circuit's powerful current supply makes the N-01XD less susceptible to the detrimental effects of impedance on the signal route. It also enables a more powerful signal transmission, fully driving connected compatible devices.
---
Supports Super Audio CD playback by connecting ESOTERIC CD/SACD TRANSPORT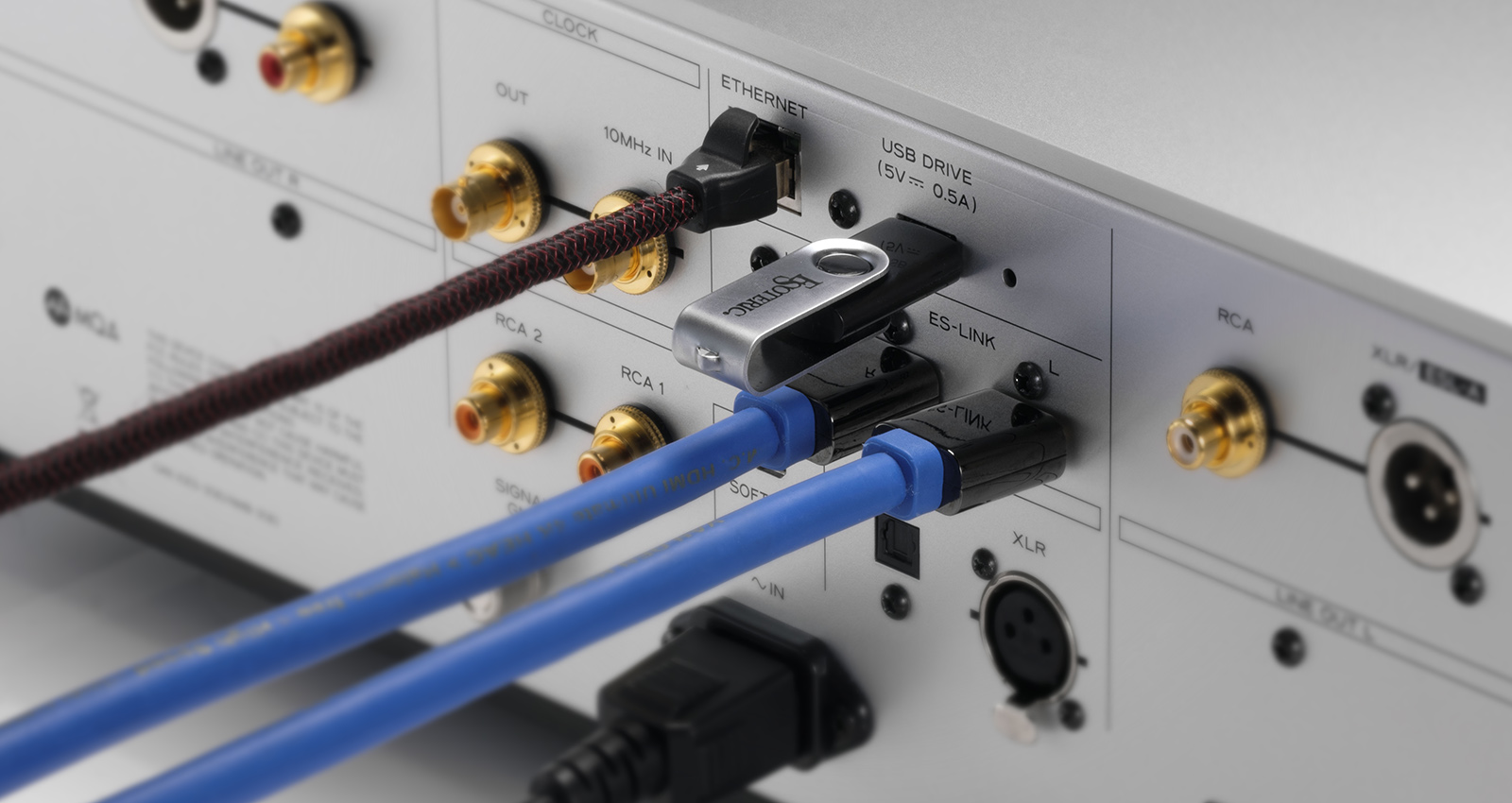 N-01XD supports the ES-LINK*, ESOTERIC's unique ultra-wideband digital interface, that allows the N-01XD to playback Super Audio CD by connecting an ESOTERIC transport unit with a single-connection via a couple of HDMI cables or XLR cables.
* ES-LINK is ESOTERIC's unique ultra-wideband digital interface. The N-01XD employs Version 5 which is the same version as the flagship Grandioso D1X, supporting wide-range transmission via a couple of HDMI cables (maximum: DSD 22.5 MHz, PCM 768 kHz/48-bit). Utilizing the double-track structure of HDMI, each signal of "Audio Data", "LR Clock" and "Bit Clock" is transmitted in a fully balanced system. Unlike conventional digital transmission, it achives pure and ideal digital transmission by reducing processing load on the DAC significantly, instead of processing signal modulation on transmission side and demodulation on reception side.
Supports MQA decoding on all digital input sources
The N-01XD now supports MQA decoding on all digital inputs, including MQA-CD signal read by a CD Transport unit.
Network Audio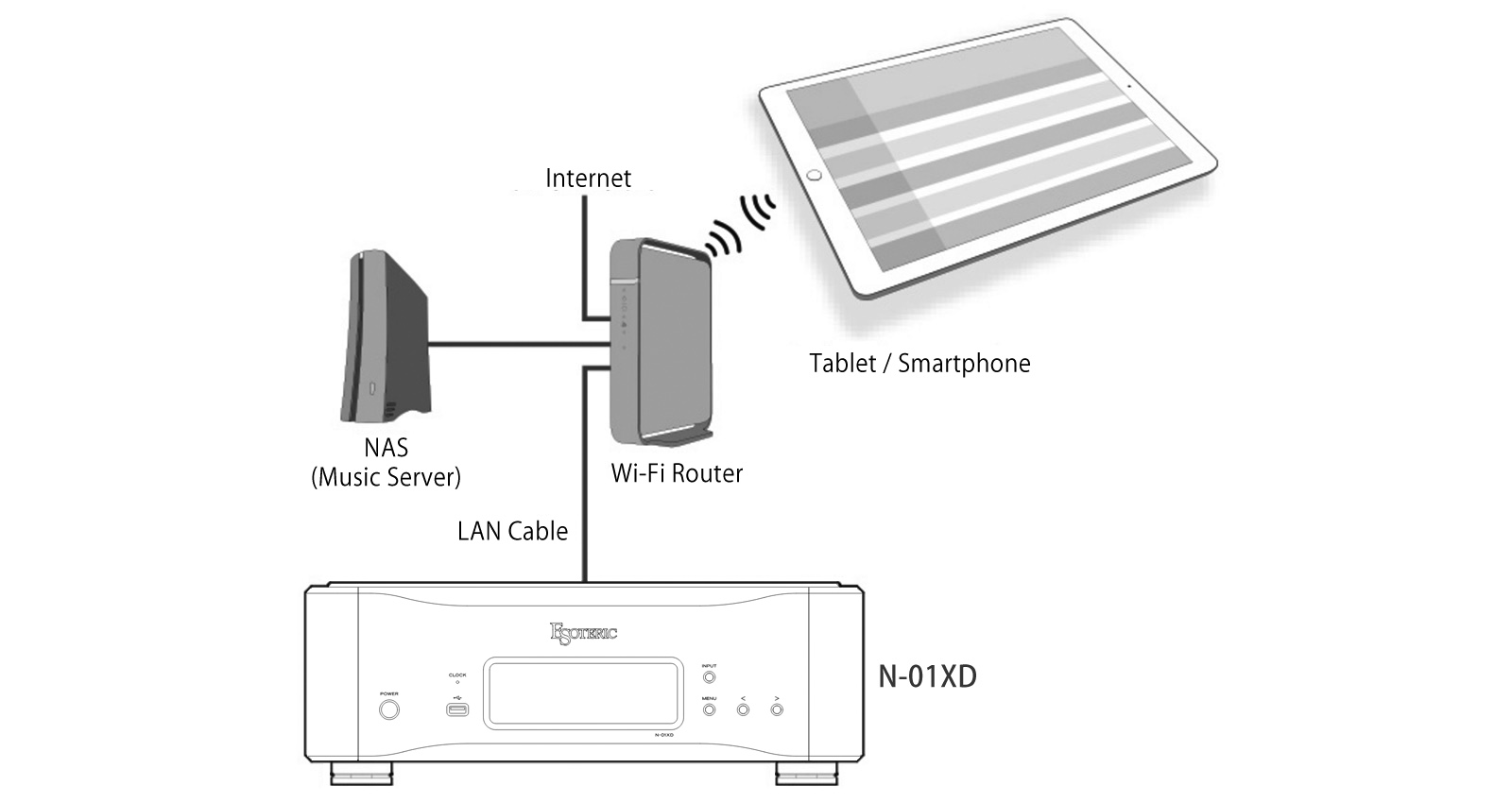 Imagine choosing and playing back your favorite music with outstanding sound quality without leaving the comfort of your listening seat. ESOTERIC's N-01XD Network Audio Player makes this a reality. The N-01XD enables you to enjoy the vivid musical experience of DSD master sound sources. You can quickly and easily access your digital music library, or actively seek out new encounters in music with streaming services available in your area. Simply make effective use of your home network environment to bring your relationship with music even closer.
In addition to your home audio components, all you need are a standard domestic LAN connection (with wireless router) and a tablet or smartphone. You can also incorporate an NAS (Network Attached Storage) device to hold your entire music library. It's that simple! Just make these changes to discover a whole new level of high-quality musical enjoyment without compromise.
Furthermore, sound quality via network connection has significantly imroved, by employing the latest netwrok module that supports DSD 22.5MHz and linear power supply technology without using switching elements.
Compatible with a Variety of Audio Sources
The N-01XD is compatible with 22.5MHz DSD, 384kHz/32-bit PCM playback and a host of other formats (DSF, DSDIFF, FLAC, Apple Lossless, WAV, AIFF, MP3, AAC and MQA), gapless playback capability is also offered in all lossless formats.
ESOTERIC Sound Stream
ESOTERIC Sound Stream is an Apple iOS/Android application for tablets and smartphones designed with an emphasis on both sound quality and intuitive operability for network playback. Simply select musical tracks using the tablet/smartphone to create a customized playlist and then play the playlist. All screens are intuitively designed for easy operation and access to playlists and libraries, making it easier for anyone to use. Yet it also has a wide range of refined features that meet the demands of even the most experienced users.
Key to this achievement is the excellent search and retrieval function that fully utilizes tag information. Images are also stored in the app, enabling you to instantly scroll through album artwork and libraries according to categories such as artist, year of recording, composer or category. This use of tag information even allows tracks that have the same name but different formats to be easily identified on the screen.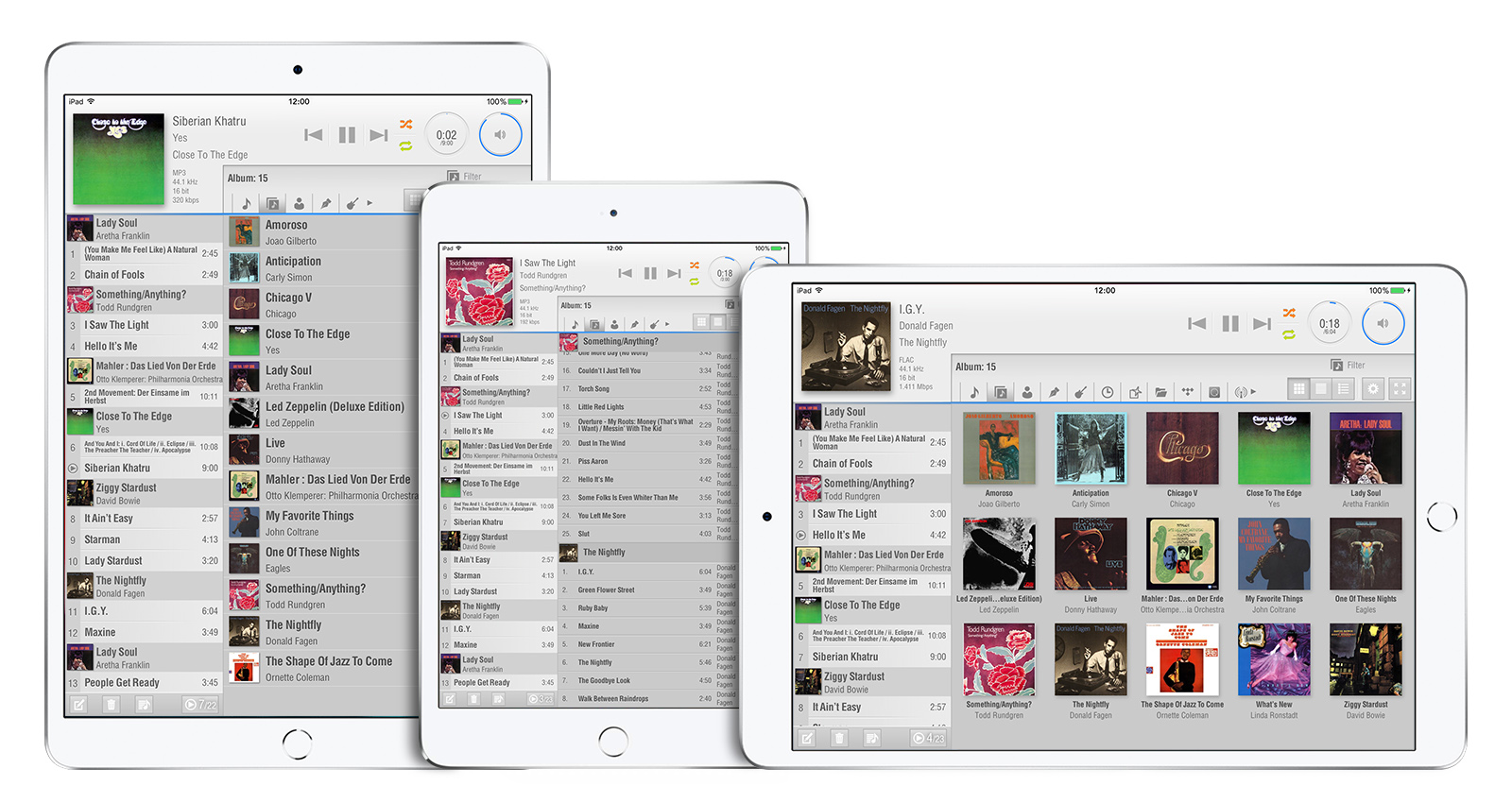 Compatible with a Wide Range of Streaming Services and Audio Codecs
Esoteric has partnerships with a wide range of streaming service and audio codec providers, and preparations are underway for compatibility with new services.*
*Regional restrictions may be implemented on some services.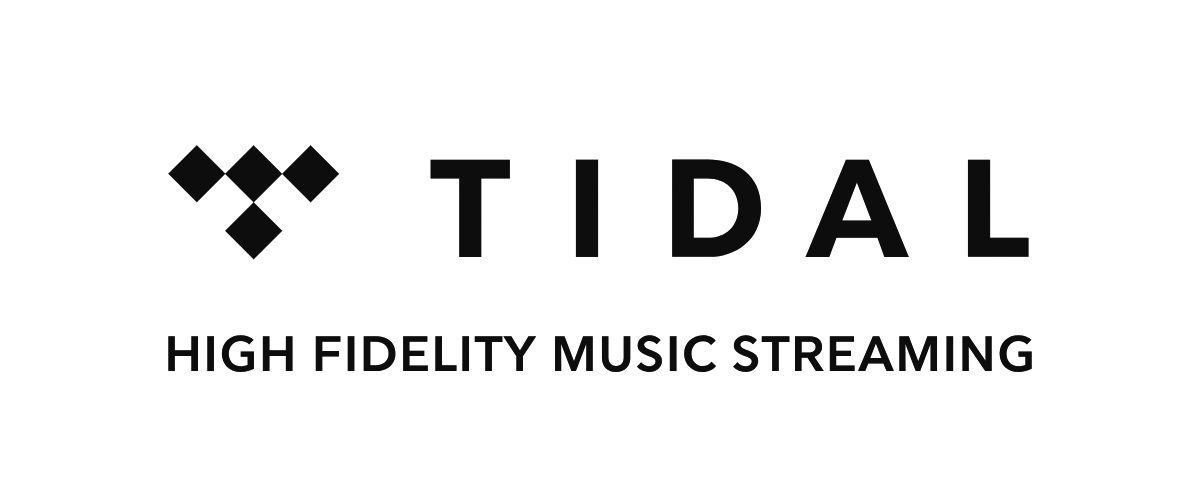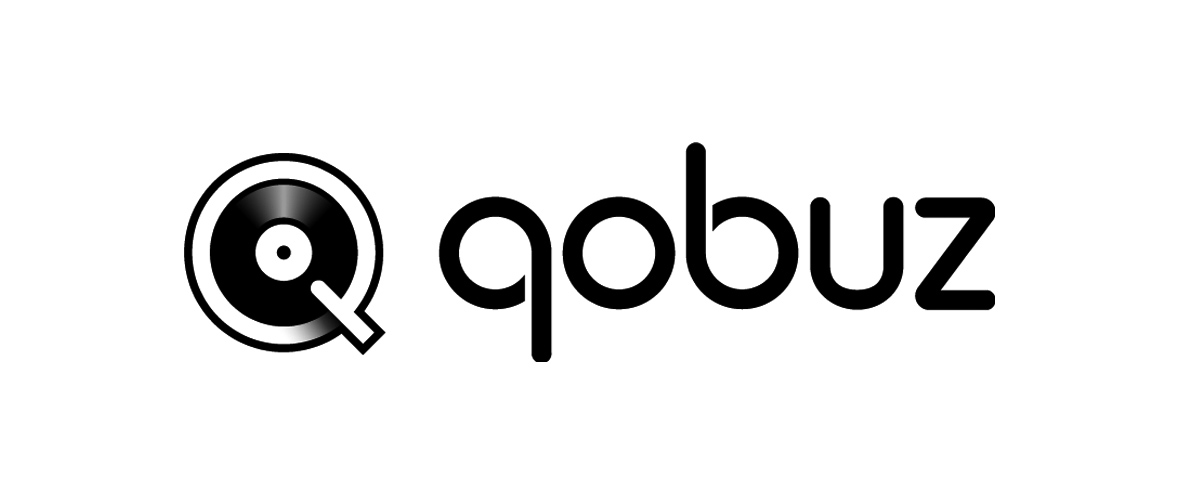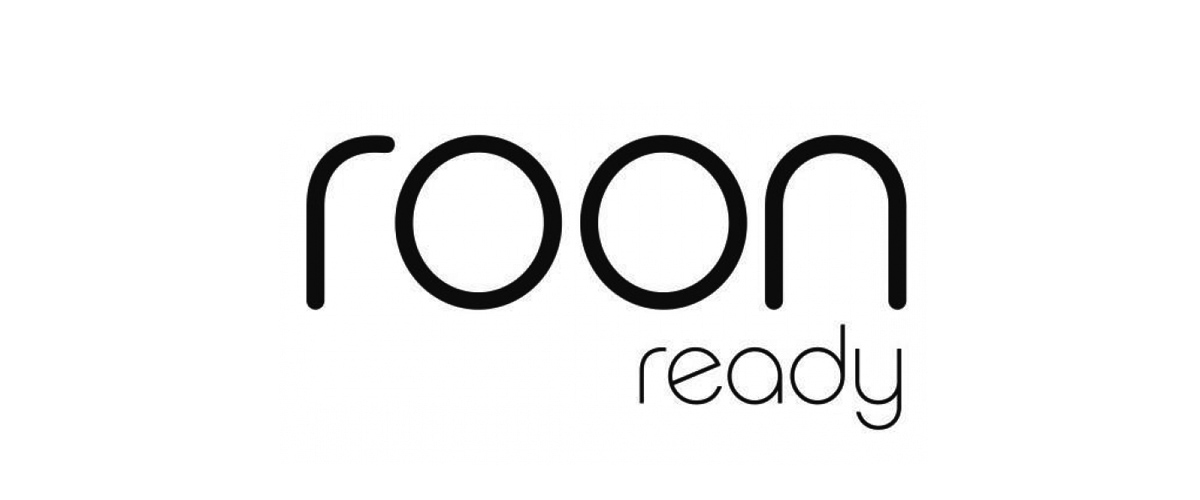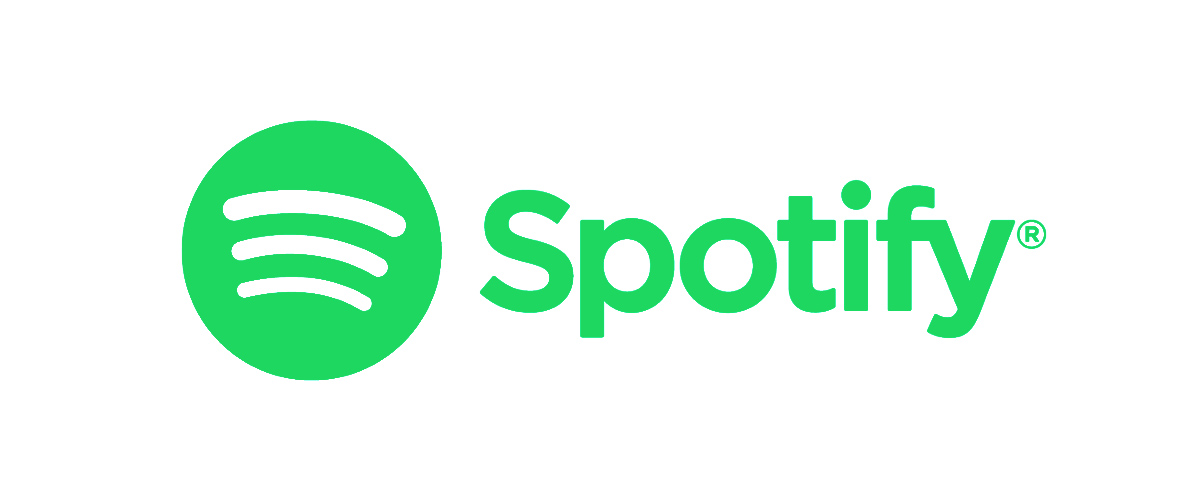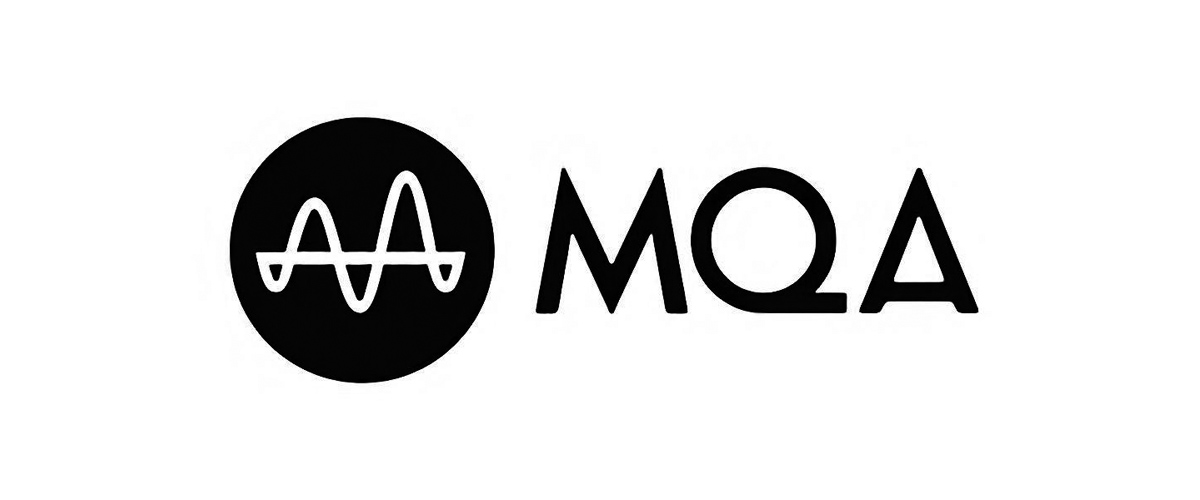 Music Server Function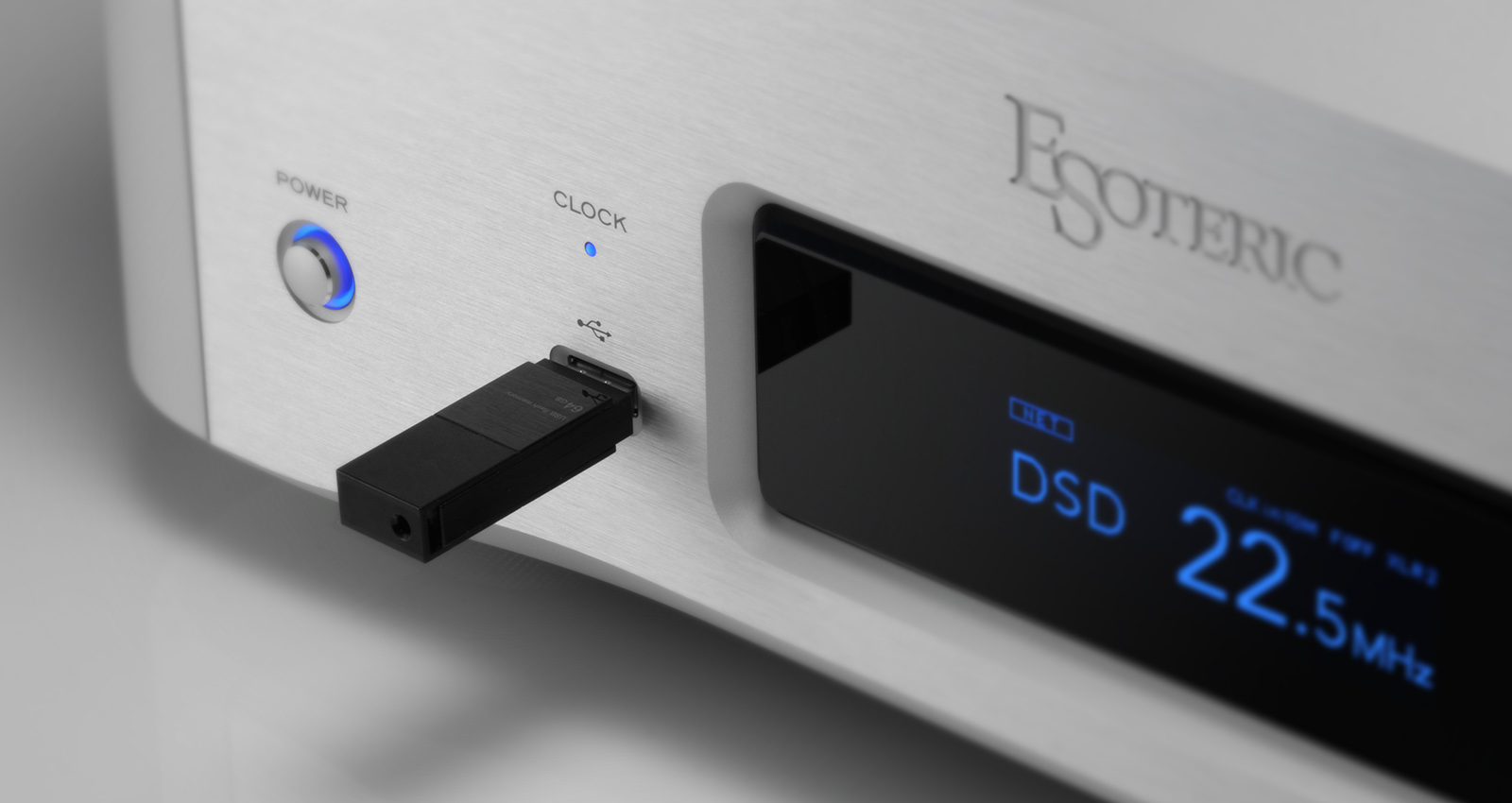 Without complicated NAS settings for music server, the N-01XD can also be used as a simplified music server that integrates both player and library by connecting large-capacity storage devices to two USB ports on the front and rear of the unit.
No HDD/SSD can be accommodated inside the N-01XD.
Four Powerful Independent Power Supply sections
The key to the sound quality of the N-01 and D-02X, which boasted a powerful and deeply carved three-dimensional sound, is found on the powerful power supply unit. The same story is applied on the N-01XD. An enhanced power supply section adds even more depth to the sound delivered from the N-01XD.
Each left and right D/A converter, digital circuit and the network module has exclusive power transformers, meaning a total of four independent toroidal-core power transformers are accommodated in the N-01XD, while the power regulator in the DAC section utlizes technologies and know-hows learnt from the development of the Grandioso P1X/D1X which employ a Low-feedback DC regulator configurated descretely, not relying ICs, minimizes amount of feedback. Consequently, the N-01XD achives a powerful sound with a sense of openness.
High-quality Linear Power Supply exclusively for Network Module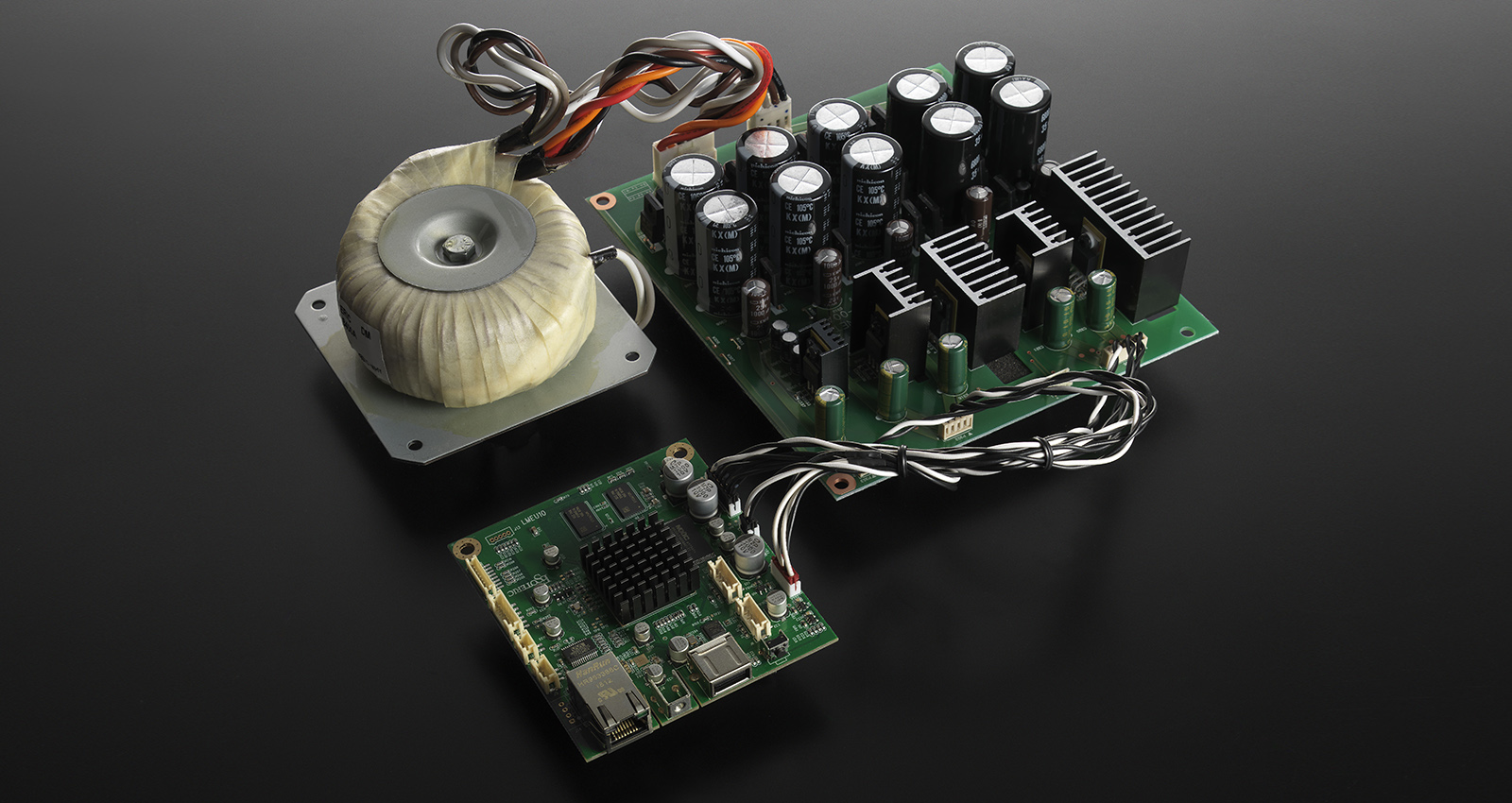 From our experience of the development on the Network Transport, the power supply dedicated to the network module employs linear elements refined for audio products instead of a stabilized switching power supply, while large capacity condensers, Schottky barrier diodes, and the EDLC (Electric Double-layer Capacitor) large-capacity supercapacitors with a total of 2,333,333μF capacity contribute significant improvement on sound quality
High-Precision Grandioso Custom VCXO II
The clock circuit supplies a high-accuracy reference clock signal to the digital circuitry. The Grandioso Custom VCXO (voltage-controlled crystal oscillator) is a high-precision custom clock that utilizes a large crystal element to ensure exceptional sound quality with excellent center accuracy (±0.5ppm) and extremely low levels of phase noise.
In addition, the N-01XD also accepts high-precision 10MHz clock as precise as an atmic clock generated by ESOTERIC Master Clock Generators, the Grandioso G1 and the G-01. The external clock signal is applied to both network playback and USB Audio playback.
USB Audio Interface supports DSD 22.5MHz
and Asynchronous Transmission
The N-01XD includes a USB audio interface for connecting to computers, and the driver and "ESOTERIC HR Audio Player" playback software can be downloaded free from the ESOTERIC website. The N-01XD supports asynchronous transmission and playback at high sampling rates up to 22.5MHz DSD and of 768kHz/32-bit PCM source files. Conventional digital audio inputs in XLR, RCA, and Optical formats are also supported for various sysytem configurations.
Highly Rigid Chassis Design
The N-01XD features the highly-acclaimed 2-layer thick aluminum and steel rigid chassis design. The chassis interior has a double-decker construction that both reduces interference between circuits and shortens the power supply paths to further improve sound quality. Each slot in every part of the chassis is precisely machined using laser technology to effectively reduce vibration. The entire bottom chassis is supported on 5mm-thick steel by our proprietary pinpoint feet (patent No;JP4075477,JP3778108) to create a complete mechanical grounding that protects against vibration.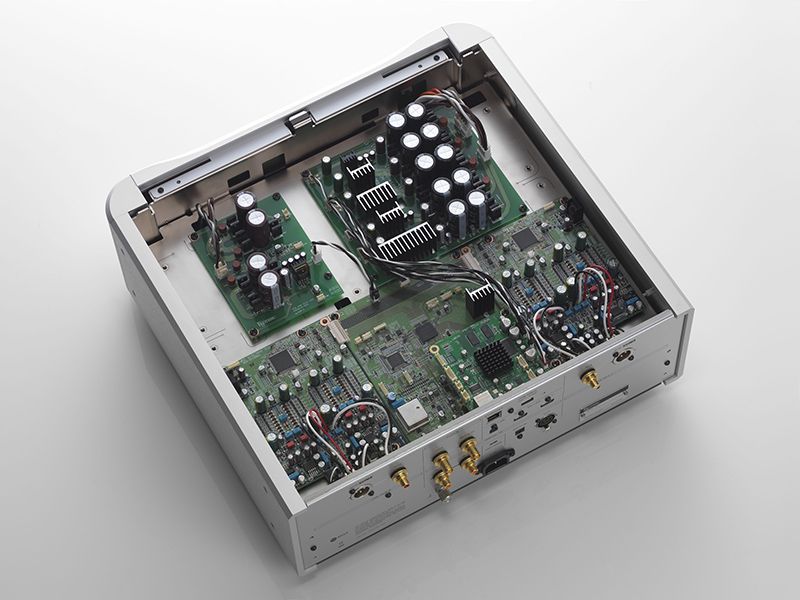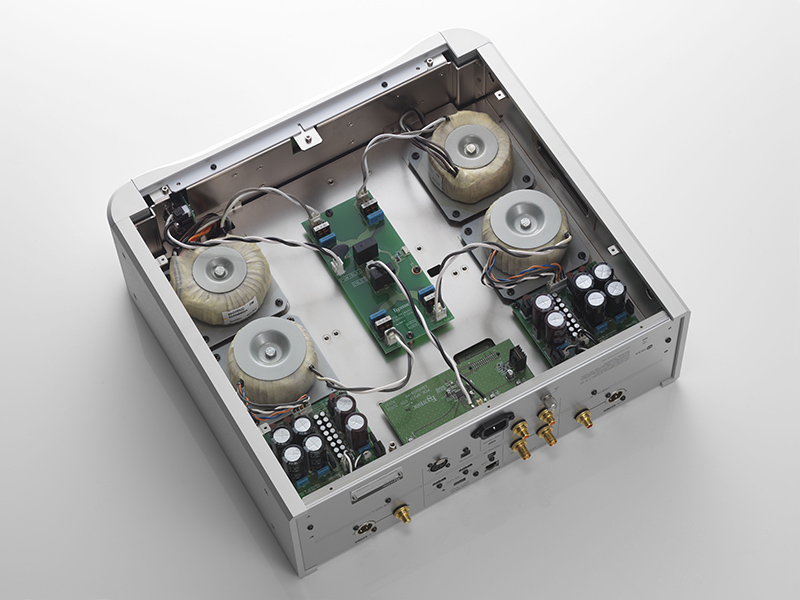 Semi Floating Top Panel
The enclosure's top panel utilizes a screwless semi-floating structure that further contributes to an open and expansive sound.