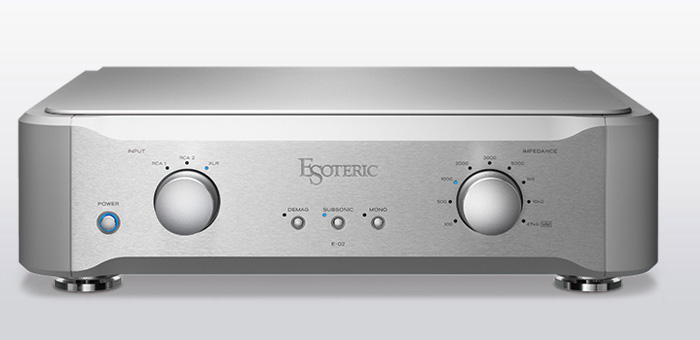 I have long been asked for a phono stage with both single ended AND balanced inputs and outputs and now we can deliver!
The new ESOTERIC E-02 phono pre-amplifier sits above the current E-03 model which has been held in the highest regard by many people since its release.The E-03 will continue in the range offering unbeatable value for those using single ended connection.
The new E-02 is a fully balanced, dual mono design which adds balanced inputs and outputs along with the ability to connect to the ESOTERIC F1 GRANDIOSO via the proprietary "ES-Link Analog" current mode connection. Featuring 3 inputs (2 x RCA & 1 x XLR) plus features carried over from the E-03 including MC & MM cartridge support, front mounted impedance control and demag function, the E-02 is fully loaded. If that's not enough they even throw in a mono switch and a sub-sonic filter.
From the ESOTERIC website
"Supports current transmission "ES-LINK Analog"
In addition to normal output (XLR, RCA), it also supports ESOTERIC proprietary transmission method "ES-LINK Analog". It is a current transmission method that takes advantage of the characteristics of a high-speed and powerful HCLD circuit to maximize the potential of compatible equipment."
You can see more images and read up on the unit (via Google translator) at the following link.
http://www.esoteric.jp/products/esoteric/e02/index.html
For pricing and availability please contact us!