Product Description
ECLIPSE TD307MK2A
Audiophile miniaturization – small, but perfectly formed
NOTE: PRICE IS PER PAIR
ECLIPSE TD speakers bring the technology used by sound engineers and musical artists to the small speaker. Sound theory, award winning design, technical know-how, carefully chosen material and a precision attention to detail go into achieving a highest sound quality – at an affordable price.
Although it is classed as a small speaker system, the TD307MK2A's construction and technology is as superior as our larger models. The driver unit has been developed to achieve better impulse response and a wider frequency range, vibration resistance has been improved to provide better low-frequency response, and it can be mounted in any direction. You'll experience a speaker that's out of its class.
Available in black, silver and white. Can be used as monitors, mounted on stands, on-wall and off the ceiling.
Our unique Time Domain theory technologies achieve the most accurate sound reproduction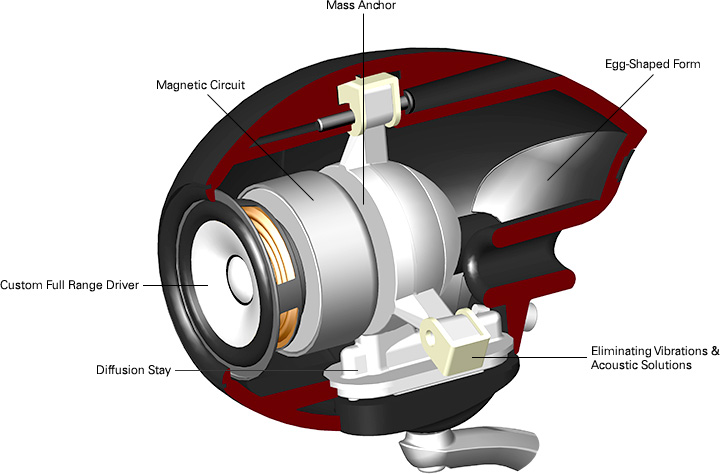 Custom Full Range Driver
The material for the drive unit has been selected to provide the optimum performance from the cone. It needs to be extremely light with great elasticity, combined with high radial rigidity. It is supported by a highly flexible surround and damping system in a magnetic circuit to provide precise piston movement.
Mass Anchor
A high mass, conical anchor weight has been placed on the back of the drive-unit magnet. This structure acts as a mass sink, which 'grounds' the drive-unit ensuring the ideal piston movement.
Eliminating Vibrations & Acoustic Solutions
In order for its floating enclosure to be effective we have achieved an air-tight seal, whereby the drive-unit is sealed to the enclosure, eliminating the transmission of unwanted vibrations. This requires a permanent bond combined with a flexible coupling.
Magnetic Circuit
To make the most of the custom driver, it must be driven correctly by the magnet, which effectively the engine of the speaker. The ECLIPSE TD speakers incorporate a specially designed circuit to ensure a high magnetic flux density, creating a powerful magnet with an optimized voice-coil.
Diffusion Stay
Colouration of sound reproduction will occur if the speaker cone is allowed to cause the speaker enclosure to vibrate. ECLIPSE TD speakers minimize this issue with a sophisticated 'diffusion stay' whereby the drive-unit is held in a floating mechanism so that no residual vibration can be transferred from the unit itself to the enclosure.
Egg-Shaped Form
The internal standing and diffraction waves generated at the front baffle edges are largely eliminated by adopting a rigid yet tactile egg-shaped form, in which no two radial surfaces are in the same plane.